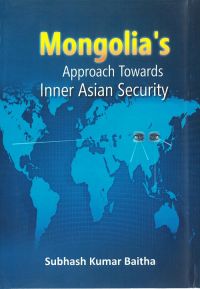 Mongolia's Approach Towards Inner Asian Security
Product Details:
Share this by email:
ISBN:
9789380222363
Publisher
:
GenNext Publication
Year of publishing:
2014
Format:
Hardback
No of Pages:
267
Language
: English
Description About The Author:- Subhash Kumar Baitha is a native of Motihari, Bihar. He is a research scholar at Jawaharlal Nehru University, New Delhi, India. He completed his graduation in History from...
Read more
Description About The Author:- Subhash Kumar Baitha is a native of Motihari, Bihar. He is a research scholar at Jawaharlal Nehru University, New Delhi, India. He completed his graduation in History from Banaras Hindu University, Varanasi. He joined M.A in politics (specialization in international relations) at Jawaharlal Nehru University and completed M.Phil at Center for Inner Asian Studies, School of International Studies. He has many articles published in his credit. One more book (edited), titled "Glimpses of Central Asia," of this promising scholar is going to be published soon. The author can be reached at subhjnu@gmail.comContents:- Preface 11 Acknowledgements 21 Abbreviations 23 1. Introduction to Mongolia's Foreign Policy 27 Background of Mongolia's Foreign Policy. Impact of Gorbachev's Reforms on Mongolia's Foreign Policy. Changes in Mongolia's Foreign Policy before the Period of 1991 • Mongolia's Foreign Policy within Theoretical Prism • Origin and Development of International Relations Theory • Mongolia's Foreign Policy and its Linkages on International Relations. 2. Changing Mongolia's Foreign Policy: Domestic Factor 53 Mongolia's Reform Initiatives in Pos t 1991 • Democracy and Market Economy in Mongolia • Economic Reforms and International Institutions. Debates on National Interest • Political, Economic and Social Issues • Sovereignty as a Factor in Mongolia's Foreign Policy • Sovereignty and Identity as a Factor in Mongolia's Foreign Policy • Soviet Antiquity as a Factor for Changes in Mongolia's Foreign Policy. Enhanced Presidential Role in Foreign Policy. The Role of Civil Society in State Affaires • Constructing Social Accountability through Media • The Constitutional Remedies for Making New Mongolia. The Fourth New Constitution, 1992. 3. Mongolia's Foreign Policy Changes: External 79 Factors . Geopolitical Importance of Mongolian, Inner Asia Emergence of New Geopolitical Environment • National Security Concern of Mongolia • Linkages between Security and Foreign, Policy • Security through Democratisation • Security through Proactive Diplomacy • Impact of Relations with External Powers • Mongolia - Soviet Union /Russia Relations • Mongolia - China Relations • Political Relation Economic/Trade Relations and Economic/ Technological Cooperation • Exchanges and Cooperation in the Cultural, Educational, Scientific and Technological Fields • Other Relations • Major Bilateral Agreements Mongolia -USA Relations. 4. "Multi-Pillar" Foreign Policy Of Mongoli 107 Determinants of Mongolian's Foreign Policy in the Political 1 Sphere Mongolia's Foreign Political in Economic Sphere : Mongolia's Foreign Policy III Science an Technology Cultural and Humanitarian foreign Policy , Implementation of Foreign Policy through Democratic Elections • Timeline of Mongohan Democracy Promoting the Integrity of the .Electoral Process • Democratic Role of Political Parties III Elections Indian - Mongolia Relations Future Prospective 127 5. Historical Linkages • Cultural Linkages. Political Linkages • Trade Linkages • India's Role in Mongolia's Third Neighbor Policy • India-Mongolia Strategic Partnership.6. Conclusion 149 Appendices 157 Bibliography 243 Index 261About The Book:- Having A Rich Historical Legacy With Proud Traditions Of Statehood And Foreign Relations For Which This Country Can Be Considered As The Cradle Of Inner Asia. Geographically Positioned As A Landlocked Country It Is Surrounded Completely By Russia And China. Mongolian History Was Dotted With Few Significant Events For Nearly Two Centuries. In The Post-1991 Fest, Due To The Forces Of Globalisation Different Forces Are Shaping The Contours Of Both Bilateral And Multilateral Relations. After The Breakup Of The Ussr, And The Total Cut In The Vital Soviet Economic Assistance, Mongolia Also Turned Their Attention To The World Community, Expanding Their Search For Multilateral Partners And Donors To Replace The Former Patron. Various Domestic And External Factors Responsible For Changes In The Foreign Policy Of Mongolia. Mongolia's Foreign Policy Aims To Securing Its Sovereignty, Security And Economic Independence Rather Than Remaining Dependent On An External Power As Was The Case During Soviet Days, And Also Mongolia Pursues A Multi-Pillar Foreign Policy With Other Democratic Countries To Consolidate Its National Interest, About The Author:- Subhash Kumar Baitha Is A Native Of Motihari, Bihar. He Is A Research Scholar At Jawaharlal Nehru University, New Delhi, India. He Completed His Graduation In History From Banaras Hindu University, Varanasi. He Joined M.A In Politics (Specialization In International Relations) At Jawaharlal Nehru University And Completed M.Phil At Center For Inner Asian Studies, School Of International Studies. He Has Many Articles Published In His Credit. One More Book (Edited), Titled "Glimpses Of Central Asia," Of This Promising Scholar Is Going To Be Published Soon. The Author Can Be Reached At Subhjnu@Gmail.Com, Content:- Preface 11 Acknowledgements 21 Abbreviations 23 1. Introduction To Mongolia's Foreign Policy 27 Background Of Mongolia's Foreign Policy. Impact Of Gorbachev's Reforms On Mongolia's Foreign Policy. Changes In Mongolia's Foreign Policy Before The Period Of 1991 • Mongolia's Foreign Policy Within Theoretical Prism • Origin And Development Of International Relations Theory • Mongolia's Foreign Policy And Its Linkages On International Relations. 2. Changing Mongolia's Foreign Policy: Domestic Factor 53 Mongolia's Reform Initiatives In Pos T 1991 • Democracy And Market Economy In Mongolia • Economic Reforms And International Institutions. Debates On National Interest • Political, Economic And Social Issues • Sovereignty As A Factor In Mongolia's Foreign Policy • Sovereignty And Identity As A Factor In Mongolia's Foreign Policy • Soviet Antiquity As A Factor For Changes In Mongolia's Foreign Policy. Enhanced Presidential Role In Foreign Policy. The Role Of Civil Society In State Affaires • Constructing Social Accountability Through Media • The Constitutional Remedies For Making New Mongolia. The Fourth New Constitution, 1992. 3. Mongolia's Foreign Policy Changes: External 79 Factors . Geopolitical Importance Of Mongolian, Inner Asia Emergence Of New Geopolitical Environment • National Security Concern Of Mongolia • Linkages Between Security And Foreign, Policy • Security Through Democratisation • Security Through Proactive Diplomacy • Impact Of Relations With External Powers • Mongolia - Soviet Union /Russia Relations • Mongolia - China Relations • Political Relation Economic/Trade Relations And Economic/ Technological Cooperation • Exchanges And Cooperation In The Cultural, Educational, Scientific And Technological Fields • Other Relations • Major Bilateral Agreements Mongolia -Usa Relations. 4. "Multi-Pillar" Foreign Policy Of Mongoli 107 Determinants Of Mongolian'S Foreign Policy In The Political 1 Sphere Mongolia's Foreign Political In Economic Sphere : Mongolia's Foreign Policy Iii Science An Technology Cultural And Humanitarian Foreign Policy , Implementation Of Foreign Policy Through Democratic Elections • Timeline Of Mongohan Democracy Promoting The Integrity Of The .Electoral Process • Democratic Role Of Political Parties Iii Elections Indian - Mongolia Relations Future Prospective 127 5. Historical Linkages • Cultural Linkages. Political Linkages • Trade Linkages • India's Role In Mongolia'S Third Neighbor Policy • India-Mongolia Strategic Partnership.6. Conclusion 149 Appendices 157 Bibliography 243 Index 261
Read less
Recommended Books for you - See all
Price
:
Rs. 799
Rs.544
You save: Rs.255
Vendor :
Gaurav Book Centre, delhi
FREE SHIPPING | Delivered in 5 working days
(Cash on delivery available)
Be assured. 7 days Return & Refund Policy.
Click here
3 offers starting from Rs. 544
Rs.544 FREE SHIPPING

In stock | Delivered in 5 working days

Gaurav Book Centre, delhi

Add to cart

Rs.593 FREE SHIPPING

In stock | Delivered in 5 working days

Gyan Books Pvt.Ltd, Delhi

Add to cart

Rs.790 FREE SHIPPING

In stock | Delivered in 5 working days

Anshika Books, Delhi

Add to cart