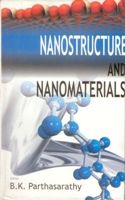 Nanostructure And Nanomaterials
Product Details:
Share this by email:
ISBN:
9788182054288
Publisher
:
Isha Books
Year of publishing:
2007
Format:
Hardback
No of Pages:
312
Language
: English
Description About The Author:- B.K. Parthasarathy , a well-known teacher and researcher of physics, received his Ph.D quantum physics from England in 1982. He has a strong research background in nanoscience...
Read more
Description About The Author:- B.K. Parthasarathy , a well-known teacher and researcher of physics, received his Ph.D quantum physics from England in 1982. He has a strong research background in nanoscience and technology. His areas of special interest include quantum electronic devices, semiconductor devices and materials, molecular-beam epitaxy and semiconductor processing. His research findings have appeared in several journal articles and in the proceedings of international conferences. Dr. Parthasarathy is a honorary member in the advisory bodies of many professional science magazines, and is an active communicator in the media, and at public, education, industry and science forums. He has recognized the importance of initiating nanotechnology and the need to steer their global impact on social, economic, and ethical issues. He has organised a number of seminars of nanotechnology, linking science, governments, industry, investors, international collaborators and civic groups, across the country.Contents:- Preface ? Strategies of Nanomaterials ? Synthesis of Nanomaterials ? Artificial Nanostructures ? Nanotube Technologies ? Novel Nanomaterials ? Nanostructured Materials ? Magnetic Nanostructures ? Nanophotonic Structures ? Carbon Nanowalls ? Microfabrication ? Nanomaterials on Environment ? Bibliography ? IndexAbout The Book:- Nanotechnology Is The Synthesis And Application Of Ideas From Science And Engineering Towards The Understanding And Production Of Novel Materials And Devices. These Products Generally Make Copious Use Of Physical Properties Associated With Small Scales. Materials Reduced To The Nanoscale Can Suddenly Show Very Different Properties Compared To What They Exhibit On A Macroscale, Enabling Unique Applications. This Book Has Been Written So That It Serves As A Valuable Guide Into The World Of A Nanostructures And Nanomaterials, Which Form The Premise On Which The Rest Of Nanomarvels Rest. The Book Serves The Function Of Aiding And Insightful And Thorough Discussion Of What Entails The Numerous Aspects Of Nanostructures, The Bottom-Down And Top-Down Approaches To Constructing Them, The Techniques, Practices And The Sciences Involved In This Regard, And How They Eventually Culminate In Nanomaterials. Emphasis Has Also Been Placed Upon The What Various Manifestations Of Nanomaterials Into Nanoproducts, And What They Project For The Future. The Various Issues Relating To It, Which Include The Social And Biological Implications Of Nanotechnology, Have Also Been Detailed., About The Author:- B.K. Parthasarathy , A Well-Known Teacher And Researcher Of Physics, Received His Ph.D Quantum Physics From England In 1982. He Has A Strong Research Background In Nanoscience And Technology. His Areas Of Special Interest Include Quantum Electronic Devices, Semiconductor Devices And Materials, Molecular-Beam Epitaxy And Semiconductor Processing. His Research Findings Have Appeared In Several Journal Articles And In The Proceedings Of International Conferences. Dr. Parthasarathy Is A Honorary Member In The Advisory Bodies Of Many Professional Science Magazines, And Is An Active Communicator In The Media, And At Public, Education, Industry And Science Forums. He Has Recognized The Importance Of Initiating Nanotechnology And The Need To Steer Their Global Impact On Social, Economic, And Ethical Issues. He Has Organised A Number Of Seminars Of Nanotechnology, Linking Science, Governments, Industry, Investors, International Collaborators And Civic Groups, Across The Country., Content:- Preface ? Strategies Of Nanomaterials ? Synthesis Of Nanomaterials ? Artificial Nanostructures ? Nanotube Technologies ? Novel Nanomaterials ? Nanostructured Materials ? Magnetic Nanostructures ? Nanophotonic Structures ? Carbon Nanowalls ? Microfabrication ? Nanomaterials On Environment ? Bibliography ? Index
Read less
Other books by B.K. Parthasarathy
Recommended Books for you - See all
Price
:
Rs. 780
Rs.579
You save: Rs.201
Vendor :
Gyan Books Pvt.Ltd, Delhi
FREE SHIPPING | Delivered in 5 working days
(Cash on delivery available)
Be assured. 7 days Return & Refund Policy.
Click here
2 offers starting from Rs. 579
Rs.579 FREE SHIPPING

In stock | Delivered in 5 working days

Gyan Books Pvt.Ltd, Delhi

Add to cart

Rs.772 FREE SHIPPING

In stock | Delivered in 5 working days

Anshika Books, Delhi

Add to cart