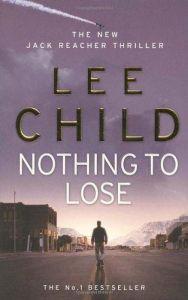 Nothing To Lose (English)
Product Details: Share this by email:
ISBN:
9780553824414
Publisher
:
Transworld
Year of publishing:
2014
Format:
Paperback
No of Pages:
544
Language
: English
Review
:
A cert to be a number one bestseller... A version of western, of course: the drifter who comes to town, sorts out the bad guys, and moves on... He makes what he does seem simple. If it is, though,...
Read more
A cert to be a number one bestseller... A version of western, of course: the drifter who comes to town, sorts out the bad guys, and moves on... He makes what he does seem simple. If it is, though, it's strange that nobody else has managed it so well" -- David Sexton Evening Standard "Follows in the great Philip Marlowe pulp tradition, nuanced with a dash of Rambo and Bruce Willis... Reacher is a moody, modern outsider figure, one of the great antiheroes... a liberal intellectual with machismo, and arms the size of Popeye's" Independent "Classic Child... brilliantly paced... his tough-but-fair creation, Jack Reacher, both a man's man and a ladies' man, proves once again that he's also his own man. And no one is going to get in his way" Mirror "Slots a series of bone-crunching brawls into a surprisingly sinuous and zeitgeisty plot... delivers emotional depth, and Reacher's bare-knuckle sleuthing certainly keeps the adrenalin up" Financial Times "A high-testosterone adventure with a thoughtful nod to what is going on in Iraq... a page turner. Thrilling" Observer
Read less
Recommended Books for you - See all
Price
:
Rs. 820
Rs.710
You save: Rs.110
Vendor :
S.V. Enterprise., Mumbai
FREE SHIPPING | Delivered in 5 working days
(Cash on delivery available)
Be assured. 7 days Return & Refund Policy.
Click here