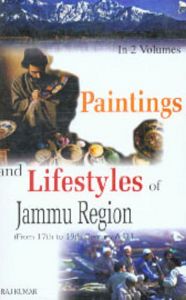 Paintings And Lifestyles In Jammu Region (From 17Th To 19Th Century A.D.), 2Nd Vol.
By: Raj Kumar
Product Details:
Share this by email:
ISBN:
9788178355788
Publisher
:
Kalpaz Publications
Year of publishing:
2006
Format:
Hardback
No of Pages:
250
Language
: English
Description About The Author:- Dr. Raj Kumar born at Nazala Chack in 1960, Tehsil Akhnoor, District Jammu. He took his Ph.D. From the University of Jammu in 2003. He is presently working as a senior historian...
Read more
Description About The Author:- Dr. Raj Kumar born at Nazala Chack in 1960, Tehsil Akhnoor, District Jammu. He took his Ph.D. From the University of Jammu in 2003. He is presently working as a senior historian in the Department of Higher Education Government of Jammu and Kashmir for the last 14 years. Besides, this work, he has many publications, in his credit and the prominent among them are 'History of the Brahmans' and 'Paintings and Lifestyles of the Jammu Region. (From 17th to 19th Century A.D.) Scholar has also various research papers to his credit published in national and state level journals. The author is also an active member of various national and international academic organisations who are working for the cause of exploration, the suffering of life, discovering new horizons and frontier of knowledge. The present work entitled 'History of the Chamar Dynasty' (From 6th Century A.D. to 12th Century A.D). is the result of his dedication towards his Father, i,e. Baba Gurinder Singh Ji Bias and listening of his Satsang. I completed this project i.e, 'History of the Chamar Dynasty' Just within Seven to Eight months. Thus, the spirit of 'Nam' or 'Chamar' is wonderful in helping the life to handle the Problem of life in easy manner. Therefore, everyone must have to seek the sweet 'Love' of the 'Father' which gives solace to the life and man always lives in heaven.About The Book:- This Book Opens A Door To The Wonderful Art And Culture Jammu Region. It Introduces Great Pahari Painters With An Intention To Pinpoint As To How They Used To Live And Work, What They Conceived, Experienced And Invented During Those Social Conditions When It Was Difficult To Attain Perfection. The Study Uncovers Some Of The Secrets Of That Society And Of Individual, How And When Great Art Is Created By The Men Of Genius. This Book Has Tried To Depict Peripherial Areas Of Art, I.E., Paintings, Dresses, Ornaments, Hairstyles, Art Of Living In Society, Music And Dance Etc, With The Hope That No Absolute Rules And Regulation Can Be Framed For Good Or Bad In The History Of Art And Culture., About The Author:- Dr. Raj Kumar Born At Nazala Chack In 1960, Tehsil Akhnoor, District Jammu. He Took His Ph.D. From The University Of Jammu In 2003. He Is Presently Working As A Senior Historian In The Department Of Higher Education Government Of Jammu And Kashmir For The Last 14 Years. Besides, This Work, He Has Many Publications, In His Credit And The Prominent Among Them Are 'History Of The Brahmans' And 'Paintings And Lifestyles Of The Jammu Region. (From 17Th To 19Th Century A.D.) Scholar Has Also Various Research Papers To His Credit Published In National And State Level Journals. The Author Is Also An Active Member Of Various National And International Academic Organisations Who Are Working For The Cause Of Exploration, The Suffering Of Life, Discovering New Horizons And Frontier Of Knowledge. The Present Work Entitled 'History Of The Chamar Dynasty' (From 6Th Century A.D. To 12Th Century A.D). Is The Result Of His Dedication Towards His Father, I,E. Baba Gurinder Singh Ji Bias And Listening Of His Satsang. I Completed This Project I.E, 'History Of The Chamar Dynasty' Just Within Seven To Eight Months. Thus, The Spirit Of 'Nam' Or 'Chamar' Is Wonderful In Helping The Life To Handle The Problem Of Life In Easy Manner. Therefore, Everyone Must Have To Seek The Sweet 'Love' Of The 'Father' Which Gives Solace To The Life And Man Always Lives In Heaven.,
Read less
Other books by Raj Kumar
Recommended Books for you - See all
Price
:
Rs. 750
Rs.557
You save: Rs.193
Vendor :
Gyan Books Pvt.Ltd, Delhi
FREE SHIPPING | Delivered in 5 working days
(Cash on delivery available)
Be assured. 7 days Return & Refund Policy.
Click here
2 offers starting from Rs. 557
Rs.557 FREE SHIPPING

In stock | Delivered in 5 working days

Gyan Books Pvt.Ltd, Delhi

Add to cart

Rs.742 FREE SHIPPING

In stock | Delivered in 5 working days

Anshika Books, Delhi

Add to cart