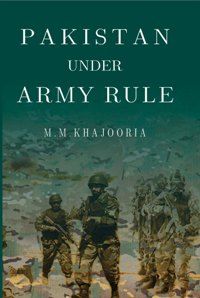 Pakistan Under Army Rule
By: M. M. Khajooria
Product Details:
Share this by email:
ISBN:
9788121211994
Publisher
:
Gyan Publishing House
Year of publishing:
2014
Format:
Hardback
No of Pages:
252
Language
: English
Description About The Author:- M.M. Khajooria retired as DirectorGeneral of Jammu & Kashmir Police. Anadministrator with wide and variedexperience, he has the distinction of beingthe first IPS officer...
Read more
Description About The Author:- M.M. Khajooria retired as DirectorGeneral of Jammu & Kashmir Police. Anadministrator with wide and variedexperience, he has the distinction of beingthe first IPS officer to be appointed asCommissioner of a Division (Poonch-Rajouri) in 1979 and State Relief andRehabilitation Commissioner (after theIndo-Pak War of 1971). He also served asDirector General, Transport and Head ofthe J&K Prison Department.He is a columnist of repute, a recognisedsecurity analyst and an eminentseminarian. He has written extensively ona wide range of subjects includingpolitico-security scenario in Jammu &Kashmir, Pakistan, Afghanistan andCentral Asia, with special emphasis onPan-Islamic fundamentalism and itslinkage with Pakistan Army/ISI. He isassociated with the Centre for Regionaland Strategic Studies of JammuUniversity and Institute for Managementand Public Administration. He also headsthe Centre for Good Governance andPublic Accountability.About The Book:- Ever Since Its Creation About Six And A Halfdecades Ago, Pakistan Was Ruled Bymilitary Dictators For A Total Period Ofaround Thirty Four Years, Punctuated Byspells Of Democratically Electedgovernment. Tragically, The Electedgovernments With The Exception Of Thegovernment Headed By Zulfikar Alibhutto (1971-77) Were Either The Creationof Army, Or Survived At The Pleasure Of Itsown Chief Of Army Staff.This Book Attempts To Comprehensivelyand Objectively Study, Survey, Evaluateand Interpret Factors And Events That Wentinto Making Pakistan Vulnerable To Army"Take-Over." It Lends Perspective To Eventsand Highlights The Role Of Political Leadersand Army Generals During The Fateful Daysexposing Conspiracies And Illuminatingmany Grey And Dark Areas. It Focuses On There Gimes Of Malik Ghulam Mohammad, Major General Iskandermirza, General Yahya Khan, Zia-Ul-Haqand General Musharraf. It Also Presents Acritical Assessment Of The Indo-Pakrelations And Contours Of Us-Pakengagements.M.M. Khajooria Retired As Directorgeneral Of Jammu & Kashmir Police. Anadministrator With Wide And Variedexperience, He Has The Distinction Of Beingthe First Ips Officer To Be Appointed Ascommissioner Of A Division (Poonch-Rajouri) In 1979 And State Relief Andrehabilitation Commissioner (After Theindo-Pak War Of 1971). He Also Served Asdirector General, Transport And Head Ofthe J&K Prison Department.He Is A Columnist Of Repute, A Recognisedsecurity Analyst And An Eminentseminarian. He Has Written Extensively Ona Wide Range Of Subjects Includingpolitico-Security Scenario In Jammu &Kashmir, Pakistan, Afghanistan Andcentral Asia, With Special Emphasis Onpan-Islamic Fundamentalism And Itslinkage With Pakistan Army/Isi. He Isassociated With The Centre For Regionaland Strategic Studies Of Jammuuniversity And Institute For Managementand Public Administration. He Also Headsthe Centre For Good Governance And Public Accountability., About The Author:- M.M. Khajooria Retired As Directorgeneral Of Jammu & Kashmir Police. Anadministrator With Wide And Variedexperience, He Has The Distinction Of Beingthe First Ips Officer To Be Appointed Ascommissioner Of A Division (Poonch-Rajouri) In 1979 And State Relief Andrehabilitation Commissioner (After Theindo-Pak War Of 1971). He Also Served Asdirector General, Transport And Head Ofthe J&K Prison Department.He Is A Columnist Of Repute, A Recognisedsecurity Analyst And An Eminentseminarian. He Has Written Extensively Ona Wide Range Of Subjects Includingpolitico-Security Scenario In Jammu &Kashmir, Pakistan, Afghanistan Andcentral Asia, With Special Emphasis Onpan-Islamic Fundamentalism And Itslinkage With Pakistan Army/Isi. He Isassociated With The Centre For Regionaland Strategic Studies Of Jammuuniversity And Institute For Managementand Public Administration. He Also Headsthe Centre For Good Governance Andpublic Accountability.,
Read less
Recommended Books for you - See all
Price
:
Rs. 760
Rs.564
You save: Rs.196
Vendor :
Gyan Books Pvt.Ltd, Delhi
FREE SHIPPING | Delivered in 5 working days
(Cash on delivery available)
Be assured. 7 days Return & Refund Policy.
Click here
2 offers starting from Rs. 564
Rs.564 FREE SHIPPING

In stock | Delivered in 5 working days

Gyan Books Pvt.Ltd, Delhi

Add to cart

Rs.752 FREE SHIPPING

In stock | Delivered in 5 working days

Anshika Books, Delhi

Add to cart