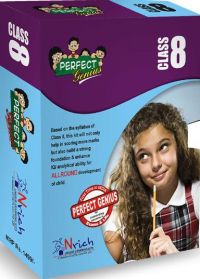 Perfect Genius Class 8 (Olympiads, Science, Maths, EVS, logic, English, Life Skills)
By: AIETS Experts
Product Details:
Share this by email:
ISBN:
9788190858526
Publisher
:
AIETS
Year of publishing:
2013
Format:
Paperback
No of Pages:
1500
Language
: English
Perfect Genius is available for classes 3, 4, 5, 6, 7 & 8.
India's first Skill Enhancement Product designed and developed by a team of ex-IITians.
Discovering, developing and unleashing your child's...
Read more
Perfect Genius is available for classes 3, 4, 5, 6, 7 & 8.
India's first Skill Enhancement Product designed and developed by a team of ex-IITians.
Discovering, developing and unleashing your child's true potential is not easy. But then, it's not impossible either. With Perfect Genius, you can! In a fun, exciting and more importantly, engrossing way! With Perfect Genius, you can now set a solid foundation by complementing what they are already learning. Helping them understand basic concepts and giving them the power to think of innovative ways to reach a solution. In Perfect Genius we have focused on 5 skill areas that need to be developed /enhanced for the overall development of a child
1. Scientific Aptitude
2. Mathematical Aptitude
3. English Proficiency
4. Social Awareness
5. Logic Development
Each kit consists of unique and innovative WORKBOOKS on above 5 areas, which contain Interesting Concepts, Quizzes, Puzzles, Activities, Experiments, Games and Exercises that have been scientifically designed and integrated to develop the SCHOLASTIC and CO-SCHOLASTIC skills of the child. The kit helps in building a strong foundation for NTSE and National & International Olympiad exams. The kit is not based on the syllabus of a single board but covers all the major boards as a whole.
Unlike regular books which try only to find out how much a child knows, the Perfect Genius kit measures how well a student has understood concepts and gives feedback on the same, to help him/ her improve. Perfect Genius kit does not restrict to the academic requirements but will question the students on various aspects required for a Good Intelligent Quotient. It will provide helpful information to students, their parents and their teachers about their academic abilities which will greatly help them make better decisions about the students' academic future.
Contents: Perfect Genius Class 8 consists of 12 workbooks (3 of Scientific Aptitude, 2 of Mathematical Aptitude, 2 of English Proficiency, 3 of Social Awareness and 2 of Logic Development) + 5 Solution manuals (1 of each subject)
In whole Perfect Genius will help in creating enough triggers for the students, parents or teachers so as to draw a perfect plan of action so that every child can become Perfect Genius.
TABLE OF CONTENTS
SUBJECT 1: SOCIAL AWARENESS
Book 1 (History)
1. OUR PAST ECONOMY
2. OUR PAST SOCIETY & SOURCES
3. BEGINNING OF POLITICS
4. DEVELOPMENT OF ART
Book 2 (Civics)
1. ECONOMIC PRESENCE OF THE GOVERNMENT
2. EXISTING REALITIES IN RURAL & URBAN AREAS
3. RULE OF LAW & CONSTITUTION
Book 3 (Geography)
1. RESOURCES & DEVELOPMENT
2. PANORAMIC VIEW OF INDIA
3. PANORAMIC VIEW OF WORLD
Book 4 (Solution Manual SOCIAL AWARENESS)
SUBJECT 2: SCIENTIFIC APTITUDE
Book 5 (Physics)
1. HEAT
2. WIND AND STORM
3. MOTION & TIME
4. ELECTRICITY & ITS EFFECTS
5. LIGHT
Book 6 (Chemistry)
1. FIBRE TO FABRIC
2. ACIDS, BASES AND SALTS
3. PHYSICAL & CHEMICAL CHANGES
4. WATER
5. SOIL
Book 7 (Biology)
1. NUTRITION IN PLANTS
2. NUTRITION IN ANIMALS
3. WEATHER, CLIMATE & ADAPTATION OF AN ANIMAL
4. RESPIRATION IN ORGANISMS
5. CIRCULATION & EXCRETION
6. REPRODUCTION IN PLANTS
7. FOREST
Book 8 (Solution Manual SCIENTIFIC APTITUDE)
SUBJECT 3: LOGICAL DEVELOPMENT
Book 9 (Verbal Reasoning)
1. KNOWLEDGE
2. RELATIONSHIP
3. ARRANGEMENT
4. MATHEMATICAL REASONING
5. CODING-DECODING
6. LOGIC BUILDING
7. ANALYTICAL PUZZLE
Book 10 (Non-Verbal Reasoning)
1. VISUAL PERCEPTION
2. COUNTING OF FIGURE, CUBE & DICE
3. WATER & MIRROR IMAGE
4. FIGURE FORMATION
Book 11 (Solution Manual LOGICAL DEVELOPMENT)
SUBJECT 4: MATHEMATICAL APTITUDE
Book 12 (Algebra & Arithmetic)
1. NUMBER SYSTEM
2. SQUARE AND SQUARE ROOTS, CUBE AND CUBE ROOTS
3. EXPONENTS AND POWERS
4. ALGEBRAIC EXPRESSIONS & IDENTITY
5. FACTORISATION
6. LINEAR EQUATION IN ONE VARIABLE
7. DIRECT AND INVERSE PROPORTIONS
8. COMPARING QUANTITIES
Book 13 (Geometry)
1. DATA HANDLING
2. VISUALISING SOLID SHAPES
3. MENSURATION
4. INTRODUCTION TO GRAPHS AND CO-ORDINATE GEOMETRY
5. UNDERSTANDING QUADRILATERAL
6. PRACTICAL GEOMETRY
Book 14 (Solution Manual MATHEMATICAL APTITUDE)
SUBJECT 5: ENGLISH PROFICIENCY
Book 15 (Vocabulary & Comprehension)
1. CLASSIFIED VOCABULARY
2. GENERAL VOCABULARY
3. IDIOMS & PHRASES
4. CONFUSING WORDS
5. COMPOSITION-I
6. COMPOSITION-II
Book 16 (Grammar & Composition)
1. GRAMMAR-I
2. GRAMMAR-II
3. GRAMMAR-III
4. COMPREHENSION-I
5. COMPREHENSION-II
Book 17 (Solution Manual ENGLISH PROFICIENCY)
Read less
OUT OF STOCK
Looks like the book you were looking for is currently not in stock with us. Please leave us your email and phone number.
We will get back to you as soon as it's available.
Your email

Phone No.

Enter characters from image