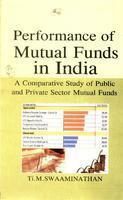 Performance of Mutual Funds In India: A Comparative Study of Public And Private Sector Mutual Funds
Product Details:
Share this by email:
ISBN:
9788121211284
Publisher
:
Gyan Publishing House
Year of publishing:
2011
Format:
Hardback
No of Pages:
299
Language
: English
Description About The Author:- Ti. M. Swaaminathan is Assistant Professor in Commerce, Pachaiyapp\'s College for Men Kanchipuram. He has a Ph.D in Finance (Mutual Funds) from University of Madras and has 21 yeats...
Read more
Description About The Author:- Ti. M. Swaaminathan is Assistant Professor in Commerce, Pachaiyapp\'s College for Men Kanchipuram. He has a Ph.D in Finance (Mutual Funds) from University of Madras and has 21 yeats of teaching and research experience. He has attended various seminars, workshops and conferences at regional, national and international levels. He has guided more than 60 research scholars for M.Phil. Degree in Commerce. He has published many research articles in different journals in the disciplines of commerce and management. He has completed a University Grant Commission aided Minor Research Project on capital market.About The Book:- This Book Is The Result Of Six Years Of Studios Research. Mutual Fund Is A Subject That Has Gained Popularity In Recent Time Not Only Among The Players In The Stock Market, But Also Among The Households And Other Investors\' In Various Forms. This Book Is Comprehensively Designed To Intensively Analyze The Performance Of Private And Public Sector Mutual Funds In India. It Examines The Origin, Growth And Development Of The Indian Mutual Fund Industry Since Its Inception. It Analyses The Performance Of 130 Mutual Fund Schmes Consisting Of Income, Balanced, Growth And Els Schemes Taken From Both Public And Private Sector For A Period Of 5 Years, From 2003-04 To 2007-08. The Navs Of 130 Schemes Are Compared With Two Benchmark Indices Viz., Sensex And Nifty. This Is Expected To Provide An Excellent Guide To Investors About Performance Of The Selected Mutual Fund Schemes Based On Different Criteria And Also Their Overall Performance., About The Author:- Ti. M. Swaaminathan Is Assistant Professor In Commerce, Pachaiyapp\'s College For Men Kanchipuram. He Has A Ph.D In Finance (Mutual Funds) From University Of Madras And Has 21 Yeats Of Teaching And Research Experience. He Has Attended Various Seminars, Workshops And Conferences At Regional, National And International Levels. He Has Guided More Than 60 Research Scholars For M.Phil. Degree In Commerce. He Has Published Many Research Articles In Different Journals In The Disciplines Of Commerce And Management. He Has Completed A University Grant Commission Aided Minor Research Project On Capital Market.,
Read less
Recommended Books for you - See all
Price
:
Rs. 441
Rs.328
You save: Rs.113
Vendor :
Gyan Books Pvt.Ltd, Delhi
Free Shipping on all orders of Rs.500 and above. Add Rs.30 otherwise. | Delivered in 5 working days
(Cash on delivery available)
Be assured. 7 days Return & Refund Policy.
Click here
2 offers starting from Rs. 328
Rs.328 + Rs.30 delivery charges

In stock | Delivered in 5 working days

Gyan Books Pvt.Ltd, Delhi

Add to cart

Rs.436 + Rs.30 delivery charges

In stock | Delivered in 5 working days

Anshika Books, Delhi

Add to cart