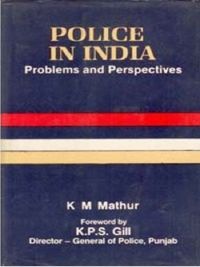 Police In India Problems And Perspectives
By: K.M. Mathur
Product Details:
Share this by email:
ISBN:
9788121203500
Publisher
:
Gyan Publishing House
Year of publishing:
2013
Format:
Hardback
No of Pages:
328
Language
: English
Description About The Author:- Dr. Krishna Mohan Mathur took his master's degree in Economic from Agra Universityand became a lecturer. Later he joined the Central Iecturer. Later he hoined the Centeral...
Read more
Description About The Author:- Dr. Krishna Mohan Mathur took his master's degree in Economic from Agra Universityand became a lecturer. Later he joined the Central Iecturer. Later he hoined the Centeral Reserve Police Force and served in several states of India. He was recipient of Ford Foundation Fellowaship and visited U.S.A., and Japan to study various training techinques used in policde training abroad. His books Administration of police in a Democratic Society, Vikash Sheel Samaj Main Saansamajik police Ki Bhumika (Hindi), are seminal studies of the subjects. He has written about eighty articlers on police and internal sexcurity subjects. Jhe is on the guest faculty of S.V.P. National Police Academy, Hyderabad, and Internal Security Academy, Mount Abu. At present he is woking as Deputy Inspector General of Police in Punjab takling the complex problem and challenges of terrorism.Contents:- FOREWORD • PREFACE • BACKGROUND TO POLICING • ORIGIN AND DEVELOPMENT OF "SCIENCE OF POLICING" • COLLECTIVE VIOLENCE-GENESIS AND RESPONSE • TERRORISM AND HOW TO TACKLE IT • GROWING AGRARIAN UNREST IN INDIA AND HOW TO COPE WITH IT • EROSION IN POLICE MORALE • HISTORY AND DEVELOPMENT OF CENTRAL RESERVCE POLICE FORCE • MANAGEMENT IN POLICE ORGANISATIONS • POLICE LEADERSHIP • POLICE TRAINING FOR LAW AND ORDER AND INTERNAL SECURITY DUTIES • PERSONNEL POLICIES IN POLICE • OFFENCES AGAINST WOMEN • VICTIMOLOGY : NEED FOR A FRESH LOOK AT THE CHILD VICTIMS IN INDIA • THE POLICE TRAING IN INDIA : THE CHANGING PERSPECTIVES • THE POLICE CULTURE : NEED FOR A CLOSER SCRUTINY • CHANGING ROLE OF THE POLICE IN INDIA • APPENDICES • INDEXSAbout The Book:- The Book Examines How The Police Developed In Various Societies, What Role It Is Expected To Play In A Pluralistic Developing Society And Many Such Critical Issues Which Provide Proper Perspectives To The Police. The Author Has Provided A Penetrating Study About Police Culture, Police Leadership, Police Moral And Police Training In The Content Of Changing Perspectives. The Extent And Scope Of The Complexity And Intenity Of The Police Have Been Ably Delineated With A View To Shed Adequate Light On The Organisational Nexus And Social Identities Of Mass Pluralities In The Context Of Democratic System.The Book Covers A Wide Range Of Subjects Related To Police. The Author Has Dealt Complex Subjects Such As Collective Violence, Terrorism And Growing Agrarian Unrest. Reasons For Erosion In Police Morale Has Been Analysed In Our Changing Society. The Work Will Make Useful And Informative Reading Not For Police Officers But Also For Police Planners, Administrators, Politicians, Student And The Public At Large., About The Author:- Dr. Krishna Mohan Mathur Took His Master's Degree In Economic From Agra Universityand Became A Lecturer. Later He Joined The Central Iecturer. Later He Hoined The Centeral Reserve Police Force And Served In Several States Of India. He Was Recipient Of Ford Foundation Fellowaship And Visited U.S.A., And Japan To Study Various Training Techinques Used In Policde Training Abroad. His Books Administration Of Police In A Democratic Society, Vikash Sheel Samaj Main Saansamajik Police Ki Bhumika (Hindi), Are Seminal Studies Of The Subjects. He Has Written About Eighty Articlers On Police And Internal Sexcurity Subjects. Jhe Is On The Guest Faculty Of S.V.P. National Police Academy, Hyderabad, And Internal Security Academy, Mount Abu. At Present He Is Woking As Deputy Inspector General Of Police In Punjab Takling The Complex Problem And Challenges Of Terrorism., Content:- Foreword • Preface • Background To Policing • Origin And Development Of "Science Of Policing" • Collective Violence-Genesis And Response • Terrorism And How To Tackle It • Growing Agrarian Unrest In India And How To Cope With It • Erosion In Police Morale • History And Development Of Central Reservce Police Force • Management In Police Organisations • Police Leadership • Police Training For Law And Order And Internal Security Duties • Personnel Policies In Police • Offences Against Women • Victimology : Need For A Fresh Look At The Child Victims In India • The Police Traing In India : The Changing Perspectives • The Police Culture : Need For A Closer Scrutiny • Changing Role Of The Police In India • Appendices • Indexs
Read less
Other books by K.M. Mathur
Price
:
Rs. 660
Rs.490
You save: Rs.170
Vendor :
Gyan Books Pvt.Ltd, Delhi
Free Shipping on all orders of Rs.500 and above. Add Rs.30 otherwise. | Delivered in 5 working days
(Cash on delivery available)
Be assured. 7 days Return & Refund Policy.
Click here
2 offers starting from Rs. 490
Rs.490 + Rs.30 delivery charges

In stock | Delivered in 5 working days

Gyan Books Pvt.Ltd, Delhi

Add to cart

Rs.653 FREE SHIPPING

In stock | Delivered in 5 working days

Anshika Books, Delhi

Add to cart