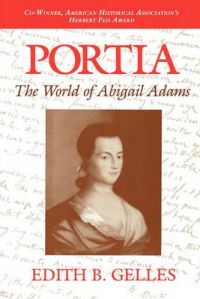 Portia: The World of Abigail Adams
By: Edith B. Gelles (Senior Scholar, Institute for Research on Women and Gender, Stanford University)
Product Details:
Share this by email:
'Here, at last, is the biography that Abigail Adams has long deserved. None that puts her, rather than her husband, at its center, and which interprets her life in light of both its eighteenth-century...
Read more
'Here, at last, is the biography that Abigail Adams has long deserved. None that puts her, rather than her husband, at its center, and which interprets her life in light of both its eighteenth-century context and recent feminist scholarship. Gelles brings new insights to familiar topics like the Adams' marriage and Abigail's wartime role; explains more fully than previous scholars such incidents as the failed courtship of Royall Tyler and Abigail Junior; and examines with sensitivity hitherto little-known episodes like that of Abigail's epistolary flirtation with James Lovell during the Revolution or Abigail Junior's mastectomy in 1811. In short, this is a remarkable achievement, far surpassing all earlier attempts to capture the essence of the woman who was one of early America's greatest letter-writers' - Mary Beth Norton. 'Edith Gelles has written a deeply interesting book about Abigail Adams...she is careful to reconstruct the eighteenth-century environment of Abigail Adams. De. Gelles is a careful historian of eighteenth-century America and a thoughtful biographer.
She has given us a fresh examination of Abigail Adams which will stimulate in helpful ways additional research and discussion' - Robert Middlekauf. 'In this important and fascinating biography, Edith Gelles not only restores Abigail Adams to her rightful place at the center of her own story, she challenges the creaky conventions of - traditional - male-defined biography. "Portia" breaks ranks with the biographers twice by refusing to treat Abigail Adams as a reflection of her husband and by refusing to force her life's story into an artificially linear narrative. In this masterful work, Edith Gelles reconceptualizes and revolutionizes the very notion of biography by capturing experience as it truly unfolds in so many women's lives - as a 'collage' of overlapping and circular impressions and feelings, rather than a relentless climb up a ladder of public ambition' - Susan Faludi. 'The best biography of Abigail Adams in print. By keeping the spotlight on Mrs. Adams and sensitively evaluating her in eighteenth-century terms, Edith Gelles provides the most rounded portrait yet of this important woman' - Patricia U. Bonomi. "Edith B.
Gelles uses the revolutionary years as the backdrop of this sensitive study, and the political events as the drama in which the players act out well-defined roles...[Gelles'] story of relationships, networks, and power in the context of Abigail's eighteenth-century world is truly a superb accomplishment' - "American Historical Review." 'Adams' strength, courage, and wit ...emerge more fully than they have in any previous work...[Gelles] has succeeded in providing a well-rounded portrait of a remarkable figure' - "Choice." '"Portia" ...is a refreshing change of pace...[Edith Gelles] is affectionate yet scholarly, determined to present Adams as a strong character who was very much a woman of her time, not merely a liberated precursor to feminism or the little wife behind the great man" - "San Francisco Chronicle." "Portia," the first woman-centered biography of Abigail Adams, details the issues, events, and relationships that informed Adams' life. "The portrait" that emerges also describes women like her during the Revolutionary era. Much of Abigail Adams' independent reputation derives from the letters that she wrote for over a half-century.
Personal and eloquent, they provide unusual access to her private life and capture the social conventions, politics, and people of her age. The letters describe her domestic sphere relationships with her sisters, her daughter and sons, and friends such as Thomas Jefferson. Her marriage to John Adams is considered in the context of the patria.
Read less
About the author:
Edith B. Gelles (Senior Scholar, Institute for Research on Women and Gender, Stanford University)
Recommended Books for you - See all
Price
:
Rs.1548
Vendor :
Repro Knowledgecast Ltd, Mumbai
FREE SHIPPING | Delivered in 21 working days
(Cash on delivery not available)
Imported Edition
Be assured. 7 days Return & Refund Policy.
Click here