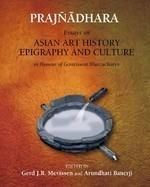 Prajnadhara: Essays on Asian Art History Epigraphy and Culture in 2 Vols
Product Details:
Share this by email:
ISBN:
9788174790965
Publisher
:
Kaveri
Year of publishing:
2009
Format:
Set
Language
: English
and Culture is a collection of fifty-one research papers in honour of Dr Gouriswar Bhattacharya, contributed by authors from India and abroad who acknowledge the eminent scholar of Bengal origin as a stalwart...
Read more
and Culture is a collection of fifty-one research papers in honour of Dr Gouriswar Bhattacharya, contributed by authors from India and abroad who acknowledge the eminent scholar of Bengal origin as a stalwart on every aspect of indian art and indological studies. Bound in two volumes, these articles with notes, references and bibliographies, are well illusrated and cover a wide range of topics relating to Indian, Tibetan, Southeast Asian and Central Asian art, architecture, iconography, painting, epigraphy, numismatics, religion, heritage management and photography. The Papers are grouped into seven sections according to distinct geographical regions, viz. Section I: Gandhara; Section II: Northern India, Central India, Nepal; Section III: Western India; Section IV: Southern India; Section V: Eastern India and Bangladesh: Section Vi: Pan-Indian Issues; and Section Vii: Southeast Asia, Central Asia, Tibet. Contents Vol 1: Section I: Gandhara; Chapter 1: Yasodhara's Dreams by Anna Maria Quaglilotti; Chapter 2: The Water Tank from Gandhara by Monika Zin; Chapter 3: The Pious Donation of Wells in Gandhara by Harry Falk; Chapter 4: Two Stamps with the Bodhigarbhalamkaralaksa Dharani from Afghanistan and Some Further Remarks on the Classification of Objects with the ye dharma Formula by Ingo Strauch; Section II: Northern India, Central India, Nepal; Chapter 5: Surya Worship in Vraja in Ancient Times with Special Reference to a Rare Kusana Lintel of a Surya Temple by Vinay Kumar Gupta; Chapter 6: The Formation of Temple Ritual in the Gupta Period: Puja and pancamhayajna by Michael Willis; Chapter 7: Mapping Masrur's Iconography by Michael W Meister; Chapter 8: The Kashmir Connection of the Vaikuntha Image of Khajuraho by Devangana Desai; Chapter 9: Vatukesvara- A Verma-Bhairava Sculpture in the Lucknow Museum by R Nagaswamy; Chapter 10: The Identification of a Sculpture of Mrtyumjaya/Amrtesa and Amrtalaksmi in the 'Royal Bath' in Patan (Nepal) by Gudrun Buhnemann; Chapter 11: Almora Copper Plate of Abhaya Candra, Saka 1296 (AD 1374) by Maheshwar P Joshi; Chapter 12: Omkareshvar Mandhata and Transplantation of Temles by amar Nath Khanna; Chapter 13: Recasting the Architectural Landscape: The Late 12th-Early 13th-Century Ghurid Annexations of Northern India by Alka Patel; Chapter 14: Umrao Jan Ada: Her carte-de-visite by Joachim K Bautze; Section III: Western India; Chapter 15: Coins of the City-State of Mahismati by Devendra Handa; Chapter 16: Buddhism in Rajasthan-Its Evolution and Devolution by Nayan Ananda Chakraborty and Sangeeta Chakraborty; Chapter 17: Some Early torana Representations from the Maharashtra Caves by Parul Pandya Dhar; Chapter 18: To What God Shall We Render Homage in the Temple at Modhera? by K Mankodi; Section IV: Southern India; Chapter 19: Raksasas and purusamrgas in the South-Western Cornnner of the Airavatesvara Temple at Darasuram by Corinna Wessels- Mevissen; Chapter 20: A Rare Saiva Icon at Lepaksi by Pierre-Sylvain Filliozat; Chapter 21: Two Kalamukha Temples in Haveri District (Jakkanacarigudi in karnataka) by Vasundhara Filliozat; Chapter 22: Girija-Kalyana Friezes in the Temple Art of the Gowdas of Yelahanka by Anila Verghese and Anna L Dallapiccola; Chapter 23: Genealogical History of the Nayakas of Velur, Southe India, and their Patronage to Art and Architecture by U S Moorti Vol II Section V: Eastern India and Bangladesh; Chapter 24: Mahamayuri and Janguli as Attendants of Prajnaparamita. Investigation of an unusual iconographic feature based on Bihari Astasahasrika Prajnaparamita manuscripts from the 11th century by Eva Allinger; Chapter 25: Illustrating the Perfection of Wisdom: The use of the; Vessantara Jataka in a manuscript of the Astasahasrika Prajnaparamita Sutra by Jinah Kim; Chapter 26: The Visnu Image from Sarisadah in the Indian Museum, Kolkata by Claudine Bautze-Picron; Chapter 27: Further Observations on Some Unusual Aspects of a Recently Acquired Pala Masterpiece in the Los Angeles County Museum of Art by Stephen Markel; Chapter 28: Some Surya Image of the Pala-Sena Period in the National Museum of Pakistan, Karachi by Ibrahim Shah; Chapter 29: A Note on Some Interesting Sculptures in the Koch Bihar Palace Museum by Bimal Bandyopadyay; Chapter 30: Jaina Cult in Ancient Bengal-The Tutelary Couple of Deopara by Isabell Johne; Chapter 31: Dedicatory Inscriptions of the Time of Mahendrapala: A Fresh Appraisal by Rajat Sanyal; Chapter 32: Re-Reading Two Copper Plate Inscriptions of Gopala II, Year 4 by Ryosuke Furui; Chapter 33: Re-Visioning the State Apparatus in Samatata (Mid-7th to mid-11th Century AD) by Shahnaj Husne Jahan; Chapter 34: Economy of Samatata in the Early Medieval Period: A Brief Overview by Suchandra Ghosh; Chapter 35: A Note on an Important Coin Collection of the Bengal Sultans in the Bode-Museum, Berlin by Sutapa Sinha; Chapter 36: Incarnation Revived: Three Temple Sculptures from Mallabhuma by Sharmila Saha; Chapter 37: A Note on the Manjuvara Manjusri Image at the Khiching Museum, Orissa by Rajasri Mukhopadyay; Chapter 38: New Light on the Adi-Bhanjas of Khijjingakotta and Other Minor Ruling Families of Their Times in Orissa (An Epigraphical Perspective) by Snighda Tripathy; Section VI; Pan-Indian Issues; Chapter 39: Dikpalas and Grahas at Paharpur in Context of Contemporaneous Pan-Indian Temple Image by Gerd J R Mevissen; Chapter 40: Icons of tripada Deities in Indian Art by Arundhati Banerji; Chapter 41: Revisiting the "Vrsa/Nandi" Issue by Pratapaditya Pal; Chapter 42: A Five-headed Wooden Elephant: A Case Study by N P Joshi; Chapter 43: Jala Mandirs, Tirtha-Patas and Cosmic Islands: Creating, Replicating and Representing Landscape in Jaina Art and Architecture by Julia A B Hegewald; Chapter 44: Hegel and the Trimurti by Adalbert J Gail; Chapter 45: Can Guided Tours Make Sense of World Heritage? by N James; Section VII: Southeast Asia, Central Asia, Tibet; Chapter 46: A Recently Discovered Surya Image from Thailand by Peter Skilling; Chapter 47: Surya's Nagas, Candra's Square Seat and the Mounted Bull with Two Guardians-Iconographical notes on two Khmer illustrated stela inscriptions by Arlo Griffiths; Chapter 48: Indo-Tibetan Influences in Banners from Dunhuang by Chhaya Bhattacharya-Haesner; Chapter 49: "Indra's Visit" by Tianshu Zhu; Chapter 50: Wall Paintings in the Arhat Chapel of the Monastery at Zhwa lu, Tibet: Notes on Iconography and Style by Helmut F Neumann and Heidi A Neumann; Chapter 51: Iconographical Suppositions in Connection with a Thangka Series Made in the Qianlong Period by Bela Kelenyi
Read less
Recommended Books for you - See all
OUT OF STOCK
Looks like the book you were looking for is currently not in stock with us. Please leave us your email and phone number.
We will get back to you as soon as it's available.
Your email

Phone No.

Enter characters from image