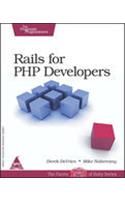 Rails for PHP Developers, 432 Pages 1st Edition 1st Edition
By: Derek Devries, Mike Naberezny
Product Details:
Share this by email:
ISBN:
9788184046328
Publisher
:
Shroff/pragmatic Bookshelf
Year of publishing:
2008
Format:
Paperback
No of Pages:
432
Language
: English
As a PHP developer, you have some great tools for developing web applications. Ruby on Rails is another key tool to add to your web development toolbox. Rails is a high-level web development framework...
Read more
As a PHP developer, you have some great tools for developing web applications. Ruby on Rails is another key tool to add to your web development toolbox. Rails is a high-level web development framework that emphasizes high productivity and clean code. However, the Ruby language and Rails framework take a different approach from the way many PHP developers write applications. Ruby lies at the foundation of Rails, and we'll teach you the Ruby language from the beginning by building on your existing foundation of PHP. We'll explore Ruby through parallel code examples that illustrate the differences between the languages, and help you understand the Ruby idioms and how they differ from popular PHP code and style. You'll then learn the Rails framework by iteratively building a complete application, starting from the home page through to a finished product. Along the way, you'll build your skills as a Rails developer by learning the Rails fundamentals such as MVC structure, domain modeling, and testing. In addition to serving as a guide to learning both Ruby and Rails from a PHP developer's perspective, this book includes two extensive reference chapters. They map the most common PHP tasks to their equivalents in the Ruby and Rails world, giving you at-a-glance information that you'll refer to often. Leverage PHP knowledge to learn Ruby on Rails quickly Understand key differences between Ruby and PHP Learn Rails best practices and relate them to PHP Develop techniques for writing effective Rails code
Read less
Recommended Books for you - See all
Price
:
Rs. 600
Rs.594
You save: Rs.6
Vendor :
Sunidhi Ventures Inc., Mumbai
FREE SHIPPING | Delivered in 5 working days
(Cash on delivery available)
Be assured. 7 days Return & Refund Policy.
Click here