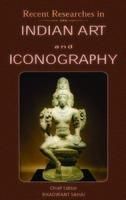 Recent Researches in Indian Art and Iconography
By: Bhagwant Sahai
Product Details:
Share this by email:
ISBN:
9788174790873
Publisher
:
Kaveri
Year of publishing:
2008
Format:
Hardcover
No of Pages:
286
Language
: English
The book Recent Researches in Indian Art and Iconography brings to light the recent trends in the study of sculptural art, iconography and architecture. This Collection of fifty-one scholarly papers focuses...
Read more
The book Recent Researches in Indian Art and Iconography brings to light the recent trends in the study of sculptural art, iconography and architecture. This Collection of fifty-one scholarly papers focuses on the different aspects of Indian art and brings under the rubic, the vivews of experts from different parts of India. The volume published in honour of Dr. C P Sinha, former Director of the prestigious K P Jayaswal Research Institute, Patna includes fresh materials, interpretation and analyses of various art objects. The papers, written in wide and expressive style are supported with several photographs, illustrations and references. This book will prove to be an invaluable asset to the art historian, researchers, libraries and also to the students. Contents Chapter 1: Concept and Elements in Indian Rock Art in India by Atul Chandra Bhowmick; Chapter 2: Musical Elements in Indian Rock Paintings by Kumar Anand; Chapter 3: A Culture Based on OSTEOKERATIC Artefacts, Unearthed from Pandurajar Dhibi, Burdwan by Tapas Banerjee; Chapter 4: A Terracotta Art Model of Double-Edged-Axe Served as Votive Object from Maner (Bihar) by S C Saran; Chapter 5: Eguvakantala Cheruvu: A Unique Megalithic Complex in Chittor District by V Ramabrahmam; Chapter 6: Taurine Symbol on Stone Discs from Murtaziganj and Other Places by A L Srivastava; Chapter 7: Significance of Symbolizing First Sermon of the Buddha at Sarnath by Bimalendra Kumar; Chapter 8: Bead Craft during Maurya Period by Durga Basu; Chapter 9: Relief Sculptures from Bharhut and Sanchi: A Stylistic Study by Basudeo Narain; Chapter 10: Lotus in Early Buddhist Art of Sanchi by Manjusri Roy; Chapter 11: Urban Delineation in Sanchi Panels: Fanciful or Real by U N Roy; Chapter 12: Buddha's Life-Scenes from Pauni, District Bhandara by Chandrashekhar Gupta; Chapter 13: Further Discovery of a Plaque Representing Rhinoceros unicornis from Dum Dum Excavation, West Bengal: An Observation by Chhanda Das; Chapter 14: A New Light on a Unique Syncretistic Deity in the Collection of the Indian Museum by Mangala Chakrabarti; Chapter 15: Ancestor-Worship in Ancient India by M L Nigam; Chapter 16: Art of Terracottas in the Gangetic Velley during the Kushanas and the Guptas (C 1st century to the 6th century A D) by Samir Kumar Mukherjee; Chapter 17: Some Principal Ferility Terracotta Figurines in the Collection of State Archaeological Museum, West Bengal by Sumit Gupta Sankar; Chapter 18: Some Genetic Factors in the Evolution of Indian Classical Art by P Gupta; Chapter 19: Life of Master (Buddha) on Stone through the Ages by Milan K Chauley; Chapter 20: A Comparative Study of Art of a Hari Hara Sculpture from Shahabad District, Bihar and a Hari Hara Sculpture Golaghat District, Assam by Hemendranath Dutta; Chapter 21: Vishnu Temple and Other Sculptures at Garhwa by B L Nagarch; Chapter 22: Geo-Political Impact on Chandella Art by S K Sullerey; Chapter 23: Manifestations of Siva in the Calukyan Temples of Andhradesa: A Study by V Sakunthala; Chapter 24: Art on Seals of the Kalachuri Kings by Satya Prakash Srivastava; Chapter 25: Ode on the Temple of Teli Ka Mandir at Gwalior by Ratan Parimoo; Chapter 26: Revatikunda in Junagadh: A Treasure House of Twenty-four Forms of Visnu by Haripriya Rangarajan; Chapter 27: Saivism and the Uma-Mahesvara Icons by Pranabanada Jash; Chapter 28: Pancavaktra or Kirtimukha or Grasa (IIIustrations from Bihar-Bengal) by Gouriswar Bhattacharya; Chapter 29: In Indian Literature, Inscription, Coin and Sculptures : Ardhanarisvara- The Composition of Siva and Sakti by Gourisankar De; Chapter 30: The Bronzdes From Ikra (Kishanganj) by Rashmi Sinha; Chapter 31: Bronzes of Eastern India: Archaeotechnical Studies by Pranab K Chattopadhyay; Chapter 32: Vasudhar in the Art of Bihar by Bhagwant Sahai; Chapter 33: Sculptures of Bhairava and Virabhadra from the Archaeological Museum, Chandragiri: An Iconographical Study by P N Naidu; Chapter 34: Rare Karana Sculptures from Tirumalapadi by M Nalini, R Kalaikkovan; Chapter 35: Mithuna Figures in the Temples of the Hoysalas by G C Chauley; Chapter 36: Exquisite Works of Art and Architecture in Kanyakumari District by S Padmanabhan; Chapter 37: An Image of Adivaraha in the Ashmolean Museum, Oxford by M Krishna Kumari; Chapter 38: The Sculptural Panorama of the Sacred Springs of Jammu Shivliks by Lalit Gupta; Chapter 39: Architecture of Bihar in 17th Century A D by Nripendera Kumar Shrivastava; Chapter 40: Genesis of Dolls and Toys by Kakoli Sinha; Chapter 41: Metal Sculptures of Seven Martyrs by N M P Srivastava; Chapter 42: Mahakala in the Art of Eastern India by Jalaj Kumar Tiwari; Chapter 43: Tree-of-Life by Bhaswati Bendopadhaya; Chapter 44: Gupta Art on Stone and Bronzes: An Epitome of Classical Art and Zenith of Artistic Evolution by Hari Kishore Prasad; Chapter 45: Religious Art in Ancient Cambodia by vijay Shankar Shrivastav; Chapter 46: Rohtashgarh: A New Perspective by Abha Rani; Chapter 47: Alwara Bronzes by Ajit Kumar Prasad
Read less
Recommended Books for you - See all
OUT OF STOCK
Looks like the book you were looking for is currently not in stock with us. Please leave us your email and phone number.
We will get back to you as soon as it's available.
Your email

Phone No.

Enter characters from image