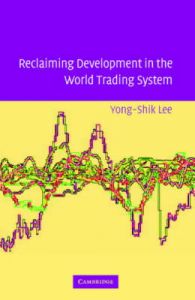 Reclaiming Development in the World Trading System
By: Yong-Shik Lee
Product Details:
Share this by email:
ISBN:
9780521852968
Publisher
:
Cambridge
Year of publishing:
2006
Format:
Hardcover
No of Pages:
208
Language
: English
Prevalent poverty in less developed countries is one of the most pressing issues of our time and economic development in these countries is necessary to bring them out of poverty. As seen in the successful...
Read more
Prevalent poverty in less developed countries is one of the most pressing issues of our time and economic development in these countries is necessary to bring them out of poverty. As seen in the successful development cases of East Asian countries, international trade is closely relevant to economic development, and export facilitation and effective industrial policies have been the key to the successful development. Current GATT/WTO provisions facilitating development are insufficient and some WTO provisions prevent developing countries from adopting effective development policies. This book is the first attempt to suggest a comprehensive modification of the current GATT/WTO disciplines to better facilitate development. The book also examines the need to elevate the level of regulatory treatment of development issues by the WTO and proposes the Agreement on Development Facilitation and the Council for Trade and Development within the WTO.
Read less
About the author:
Yong-Shik Lee
Review
:
'Professor Lee's review of the existing international trade system, and his view of its adverse effect on developing countries is impressive. He argues for considerable reforms, most notably for...
Read more
'Professor Lee's review of the existing international trade system, and his view of its adverse effect on developing countries is impressive. He argues for considerable reforms, most notably for reforms which will permit developing countries to promote infant industries, a practice which he notes today's developed countries, including the United States, pursued when they were developing. The book does make us think about the trials and dilemmas, and the poverty of less fortunate countries and peoples, and the possible relevance to them of our current trade policies and what changes in them might achieve.' Don Wallace, Jr, Professor of Law, Georgetown University, President, International Law Institute, Washington DC, USA 'Recent changes in the world trading system have made economic development far more difficult than before. In this knowledgeable and lucid book, Dr. Lee presents innovative but well-balanced and realistic proposals that will make the system more development-friendly. It is a rare combination of scholarship and pragmatic thinking. Anyone who is interested in helping the developing countries help themselves should read it.' Ha-Joon Chang, University of Cambridge, author of Kicking Away the Ladder 'A path-breaking, well-thought approach to the world's most important challenge for the 21st century, namely, how the world trading system can provide a workable mechanism to development. Professor Lee's new book should be read carefully, his analysis on the institutional and legal barriers to development under the WTO be shared by all scholars and practitioners involved in the world trading system, and his original and insightful prescriptions for this challenge be taken seriously. I believe this book would reinvigorate the half-dead debate on the New International Economic Order in the 1970s, and stimulate new ideas and proposals for the International Economic Order for the 21st century.' Junji Nakagawa, Institute of Social Science, The University of Tokyo 'Professor Lee's well written, well researched book raises the challenging question of whether the current WTO rules might retard at least some developing countries' further economic improvement by 'kicking away the ladder' - prohibiting or limiting such tools as infant industry protection which were used by Western countries during earlier stages of their development (and still used even without that justification!). He makes innovative recommendations, such as a Development-Facilitation Tariff, but is aware of the possibilities of abuse. Similarly, his Development-Facilitation Subsidy would be limited by caps based on the relative poverty of the country. Even facially neutral trade defense measures such as anti-dumping and safeguards, which are permitted by the WTO as exceptions to free trade rules, can have perverse developmental effects. Local producers in a large market, such as Europe or the United States, can use these tools to protect a home market large enough to provide a viable production base for world scale production. By contrast, flower producers in Colombia, or salmon producers in Chile - both non-traditional exports from countries with a history of monoculture - can lose their key markets (which of necessity are overseas) as a result of those measures. The possibility of reversing those measures prospectively after a three year WTO litigation process, with no repayment of legally collected duties, is illusory for an industry which would be destroyed in the meantime. Supporters of current rules in the WTO, including proponents of adding Competition Law and Investment, will have to deal with Lee's arguments. Lee recognizes that trade rules alone are not the source of development. The challenge for developing and developed countries is to make sure that trade rules do not get in the way.' Gary Horlick, Former Deputy Secretary of Commerce, Head of U.S. Department of Commerce Import Administration 'One of the most pressing issues which the WTO is confronted with is how to deal with poverty and marginalization of some developing countries. This is not only an important issue for developing countries but also for developed countries since their long-term security and prosperity depend on a successful bridging of a wide gap in wealth between some developing countries and developed countries. This is so because, as Professor Lee puts it, 'poverty tends to breed the resentment and violence that undermine the security interests of developed countries'. This book examines whether some of the principles of the WTO based on the concept of static and allocative efficiency models should be reconsidered and perhaps modified. It focuses on the role of industrial policy and export promotion and wonders if developing countries should be given a special treatment according to a 'sliding scale' in which less developed countries will get more special treatment and, as the economy develops, this will be scaled down. Japan, my own country, is known as a 'country of industrial policy'. Although the heyday of industrial policy in Japan passed, there is no doubt that industrial policy played a major role in the economic progress in 1970's and 80's. Many of developing countries are in a similar situation today. For the stability and security of the world trading system, it is vital that the WTO think about the role of governments in developing countries promoting their infant and key industries and give such a policy a proper place within the WTO regime. Professor Lee's book analyses the current provisions of WTO agreements and suggest some modification so that the ladder that has been 'kicked away' will be 'put back.' I would highly recommend this book to policy makers at the WTO, national governments, lawyers, economists and all others interested in the sound development of the world trading system.' Mitsuo Matsushita, Professor Emeritus of Tokyo University '[The author] not only provides perceptive analysis of the key WTO agreements from a developing country perspective, but also makes arrange of well thought out recommendations towards modifying existing rules so that they can meet their development needs.' Journal of World Trade Review 'It is an admirably researched and clearly written work, and one which stands out among the proliferating literature on these topics. Lee has established himself as an authority in this area, and readers will no doubt look forward to his future contributions to the field.' International and Comparative Law Quarterly
Read less
Recommended Books for you - See all
OUT OF STOCK
Looks like the book you were looking for is currently not in stock with us. Please leave us your email and phone number.
We will get back to you as soon as it's available.
Your email

Phone No.

Enter characters from image