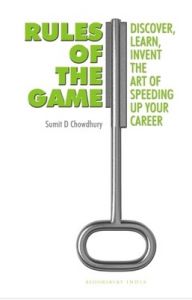 Rules of the Game : Discover, Learn, Invent the Art of Speeding Up Your Career (English) (Paperback)
Product Details:
Share this by email:
ISBN:
9789384052690
Publisher
:
Bloomsbury Publishing
Year of publishing:
2014
Format:
Paperback
No of Pages:
200
Language
: English
How do you succeed in creating a fast-tracked career? How do you make it an enjoyable journey? Approach your career as if it is a game and you are its star player. Rules of the Game helps you take control...
Read more
How do you succeed in creating a fast-tracked career? How do you make it an enjoyable journey? Approach your career as if it is a game and you are its star player. Rules of the Game helps you take control of your career by being aware and continuously prepared for changes and opportunities. This book will also help you to discover, learn and invent your own rules for managing your career. Rules of the Game empowers you to have an enjoyable career journey without trudging through life fearing change, failures, politics and uncertainty. This book will help you to: Transform your thinking to become personally responsible for your career Take control over your actions, reactions and thinking processes in each and every interaction in life Craft a deliberately impactful career instead of wandering and being accidentally impactful Develop teamwork, network and leadership skills effortlessly Improve your empathy, etiquette and communication skills Achieve long-term goals through short-term milestones Table of Contents: Foreword by Professor Dipak C. Jain Chapter 1: Realizing Your Impact on the World: Develop Self-Confidence Interview: Subroto Bagchi Chapter 2: Winners' Attitudes: Be an Enthusiastic Possibilitarian Interview: Nitin Paranjpe Chapter 3: Appearance, Etiquette and Personality: Shine Through Everything Interview: Sanjay Behl and Siddharth Roy Kapur Chapter 4: Communicating and Selling: Make it a Habit Interview: Ganesh Natarajan and Anjali Bansal Chapter 5: The Power of Teamwork: Learn to Work in Harmony Interview: Anand Kripalu Chapter 6: Seeking Feedback And Self Correcting: Welcome Change and Learn from Failure Interview: B.S. Nagesh Chapter 7: Knowing Yourself and Maintaining Discipline: Creating a Brand 'You' Interview: Roopa Kudva Chapter 8: Management and Leadership: Take the Initiative to Lead Interview: Vinita Bali Chapter 9: Career Planning: Take a General Aim Interview: Naina Lal Kidwai Chapter 10: Invest in Yourself: Keep Learning All through Life Interview: Chandra Sripada and Prasoon Joshi
Read less
About the author:
Sumit D. Chowdhury
Recommended Books for you - See all
Price
:
Rs. 699
Rs.678
You save: Rs.21
Vendor :
S.V. Enterprise., Mumbai
FREE SHIPPING | Delivered in 5 working days
(Cash on delivery available)
Be assured. 7 days Return & Refund Policy.
Click here