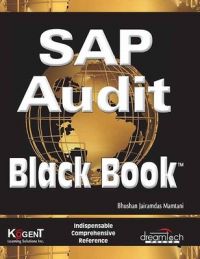 SAP Audit - Black Book (English) 1st Edition (Paperback)
Product Details:
Share this by email:
ISBN:
9789351194088
Publisher
:
Dreamtech Press
Year of publishing:
2015
Format:
Paperback
No of Pages:
426
Language
: English
This book, SAP Audit Black book, brings you a simple, to the point non-technical jargon free discussion on auditing of SAP Systems along with comprehensive real life examples based on author's real life...
Read more
This book, SAP Audit Black book, brings you a simple, to the point non-technical jargon free discussion on auditing of SAP Systems along with comprehensive real life examples based on author's real life audits. It is one of the first SAP Audit books that cover real life internal controls and business cycles rather than plain technical discussion. Targeting intermediate and advanced-level readers. Table of Contents: Introduction Chapter 1: Introduction to ERP Systems ERP Systems and their Origin Prerequisites of an Effective ERP System Major ERP Vendors J.D. Edwards PeopleSoft Oracle Applications Oracle Project Fusion Microsoft Dynamics SAP Business One Chapter 2: ERP Risks - An Auditor's Perspective Basic Objectives of Auditing and ERP Basic Challenge of ERP Systems ERP Risks for Auditors Lack of Audit Trial Speed of Processing Multiplicity of ERP Systems Reliance on a Single Integrated Location for Data Storage Tight Integration of Business Processes Critical Access to ERP Systems Maintained by Non-Financial People Lack of Proper Training of End Users 24X7 Multiple Access Need for Knowledge of the System Extent of Computerization Chapter 3: Introduction to SAP Need of SAP Introducing SAP History of SAP Exploring Evolution of SAP and Various SAP Products SAP R3 or Three-Tier Architecture of SAP System Modular Approach of SAP System Exploring Various SAP Modules Discussing Versions of SAP Introduction to SAP Net Weaver Technology Exploring EHP - The Modern Method of Software Upgrades Looking Forward Chapter 4: Basic Skills Required for Auditors Starting the SAP Server Different Clients Available with SAP Web G2UI SAP GUI Logging into SAP Methods for Executing Transactions in SAP SAP Easy Access Menu TCodes Navigation Skills Basic Navigation Skills Advanced Navigation Skills Identifying the SAP Version in Use Perform the following steps to identify the version of SAP Chapter 5: Enterprise Structure Elements for Auditors What is an Enterprise Structure? Why is Enterprise Structure needed? Basic Building Blocks of Enterprise Structure Financial Accounting CO - Controlling or Management Accounting MM - Materials Management SD - Sales and Distribution Basic Concepts of Financial - FI Enterprise Structure The Big Picture Chapter 6: End-to-End Business Cycles for Auditors - O2C and P2P Introduction to Business Processes Procure to Pay - P2P, End-to-End Business Cycle Order to Cash - O2C, End-to-End Business Cycle Order to Cash - O2C, Cycle & Procure to Pay - P2P Cycle Execution in SAP O2C Cycle Inquiry Sales Order Delivery Billing P2P Cycle Purchase Order Goods Receipt Displaying Vendor Balance Outgoing Payment Post Outgoing Payment Down Payment Request Post Down Payment Chapter 7: Audit of Integration of SAP Modules Concept of Automatic Account Assignment FI - AA Integration Assign G/L Accounts FI - CO Integration FI - MM Integration FI - SD Integration FI - PP Integration Issue of Raw Material to Production Order Production of Finished Goods Completion of Production Account Assignments for Receipts and Payments Rounding Differences Underpayments Bank Charges Overpayments Exchange Rate Difference Chapter 8: Overview of SAP Implementation Process Please check heading level ASAP Roadmap Project IMG System Landscape Transport Requests Solution Manager - Latest Tool for SAP Implementation Chapter 9: Business Blueprint - Auditors Perspective Business Blueprint Contents of a Business Blueprint Document SAP Blueprint Document Introduction Company Profile Executive Summary System Landscape Financials and Controlling Module P2P - Procure to pay business cycle O2C - Order to Cash business cycle Product Costing Process Mapping/Technical Settings Global Settings Enterprise Structure Financial Accounting Global Settings Global Parameters for Company Code Fiscal Year Variant Document Types Posting Periods Document Number Ranges Posting Keys Field Status Variants Payment transactions Asset Accounting Taxes Foreign payments Consolidation Tolerance Group Fiscal Year Default Default Value Date Taxes on Sales/Purchases General Ledger Accounting Bank Accounting Check Management Account Receivable and Account Payable Account Payable and Receivable Business Transactions Internal Orders Distribution and Assessment cycles Chapter 10: Data Gathering for SAP Audit Configuration Data Company Code Data Company Code Global Parameters Company Code Business Area Postings Controlling Area Basic Data Retained Earnings Account Inter Company Receivable and Payable Clearing Accounts Fiscal Year Variants Company Code and Fiscal Year Assignment Posting Periods Foreign Exchange Differences Postings Changes to FI data Changes to G/L Accounts Changes to Cost Elements Changes to Cost Center Changes to Bank Data Changes to Vendor Master Data Changes to Customer Master Data Chapter 11: SAP Audits and Automatic Configuration Controls Control Description Control Categorization Chapter 12: SUIM for Auditors Executing SUIM - User Information System Roles Assigned to a User Profiles Assigned to a User Users with Access to a Particular TCode Roles with Access to Critical TCodes Roles Used in Composite Roles Admin Users Who Can Create Other Users Chapter 13: AIS - Audit Information System History of the AIS Tool SECR Role-Based Menus Roles for Using AIS Components of AIS Components of a Business Audit of Individual Financial Statements Components of a Business Audit of Consolidated Financial Statements Important Roles for Using System Audit for AIS Summary Chapter 14: LSMW - Legacy System Migration Workbench for Auditors Introduction to LSMW Need for Data Upload Methods Available for Data Upload in SAP System Summary Chapter 15: SAP Reports for Auditors Changes Made to Security Authorizations Multiple Failed Logon Attempts in the Recent Past Changes Made to Security Profiles Default Passwords for Default SAP Users Changes Made to the User's Security Users with Critical Authorizations Users with Incomplete Address Data Users with Critical Combination of Authorizations Chapter 16: GRC - Global Risk Compliance Introduction to GRC Areas Covered By SAP GRC Components of SAP GRC Important Tools of SAP GRC from an Auditor's Point of View Chapter 17: Extracting Data and Dealing with Tables in SAP SE16 - Data Browser SE16N - General Table Display SE12 - ABAP Dictionary SM30 - Maintain Table Views SM31 - Maintain Table Views - Old Summary Glossary Index
Read less
Recommended Books for you - See all
OUT OF STOCK
Looks like the book you were looking for is currently not in stock with us. Please leave us your email and phone number.
We will get back to you as soon as it's available.
Your email

Phone No.

Enter characters from image