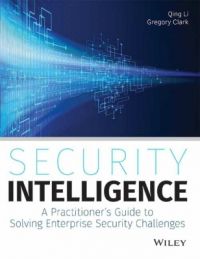 Security Intelligence (English) (Paperback)
By: Gregory Clark, Qing Li
Product Details:
Share this by email:
ISBN:
9788126555895
Publisher
:
Wiley India Pvt Ltd
Year of publishing:
2015
Format:
Paperback
No of Pages:
360
Language
: English
Security Intelligence: A Practitioner's Guide to Solving Enterprise Security Challenges guides you through a deciphering process that translates each security goal into a set of security variables, substitutes...
Read more
Security Intelligence: A Practitioner's Guide to Solving Enterprise Security Challenges guides you through a deciphering process that translates each security goal into a set of security variables, substitutes each variable with a specific security technology domain, formulates the equation that is the deployment strategy, then verifies the solution against the original problem by analyzing security incidents and mining hidden breaches, ultimately refines the security formula iteratively in a perpetual cycle. Foreword Preface Chapter 1 Fundamentals of Secure Proxies Security Must Protect and Empower Users The Birth of Shadow IT Internet of Things and Connected Consumer Appliances Conventional Security Solutions Traditional Firewalls: What Are Their Main Deficiencies? Firewall with DPI: A Better Solution? IDS/IPS and Firewall Unified Threat Management and Next]Generation Firewall Security Proxy--A Necessary Extension of the End Point Transaction]Based Processing The Proxy Architecture SSL Proxy and Interception Interception Strategies Certificates and Keys Certificate Pinning and OCSP Stapling SSL Interception and Privacy Chapter 2 Proxy Deployment Strategies and Challenges Definitions of Proxy Types: Transparent Proxy and Explicit Proxy Inline Deployment of Transparent Proxy: Physical Inline and Virtual Inline Physical Inline Deployment Virtual Inline Deployment Traffic Redirection Methods: WCCP and PBR LAN Port and WAN Port Forward Proxy and Reverse Proxy Challenges of Transparent Interception Directionality of Connections Maintaining Traffic Paths Avoiding Interception Asymmetric Traffic Flow Detection and Clustering Proxy Chaining Chapter 3 Proxy Policy Engine and Policy Enforcements Policy System Overview Conditions and Properties Policy Transaction Policy Ticket Policy Updates and Versioning System Security Implications Policy System in the Cloud Security Operation Policy Evaluation Policy Checkpoint Policy Execution Timing Revisiting the Proxy Interception Steps Enforcing External Policy Decisions Chapter 4 Malware and Malware Delivery Networks Cyber Warfare and Targeted Attacks Espionage and Sabotage in Cyberspace Industrial Espionage Operation Aurora atering Hole Attack Breaching the Trusted Third Party Casting the Lures Spear Phishing Pharming Cross]Site Scripting Search Engine Poisoning Drive]by Downloads and the Invisible iframe Tangled Malvertising Networks Malware Delivery Networks Fast]Flux Networks Explosion of Domain Names Abandoned Sites and Domain Names Antivirus Software and End-Point Solutions -- The Losing Battle Chapter 5 Malnet Detection Techniques Automated URL Reputation System Creating URL Training Sets Extracting URL Feature Sets Classifier Training Dynamic Webpage Content Rating Keyword Extraction for Category Construction Keyword Categorization Detecting Malicious Web Infrastructure Detecting Exploit Servers through Content Analysis Topology]Based Detection of Dedicated Malicious Hosts Detecting C2 Servers Detection Based on Download Similarities Crawlers Detecting Malicious Servers with a Honey client High Interaction versus Low Interaction Capture]HPC: A High]Interaction Honey client Thug: A Low]Interaction Honey client Evading Honey clients Chapter 6 Writing Policies Overview of the ProxySG Policy Language Scenarios and Policy Implementation Web Access Access Logging User Authentication Safe Content Retrieval SSL Proxy Reverse Proxy Deployment DNS Proxy Data Loss Prevention E-mail Filtering A Primer on SMTP E-mail Filtering Techniques Chapter 7 The Art of Application Classification A Brief History of Classification Technology Signature Based Pattern Matching Classification Extracting Matching Terms -- Aho]Corasick Algorithm Prefix]Tree Signature Representation Manual Creation of Application Signatures Automatic Signature Generation Flow Set Construction Extraction of Common Terms Signature Distiller Considerations Machine Learning]Based Classification Technique Feature Selection Supervised Machine Learning Algorithms Naive Bayes Method Unsupervised Machine Learning Algorithms Expectation]Maximization K]Means Clustering Classifier Performance Evaluation Proxy versus Classifier Chapter 8 Retrospective Analysis Data Acquisition Logs and Retrospective Analysis Log Formats Log Management and Analysis Packet Captures Capture Points Capture Formats Capture a Large Volume of Data Data Indexing and Query B]tree Index B]tree Search B]tree Insertion Range Search and B+]tree Bitmap Index Bitmap Index Search Bitmap Index Compression Inverted File Index Inverted File Inverted File Index Query Inverted File Compression Performance of a Retrospective Analysis System Index Sizes Index Building Overhead Query Response Delay Scalability Notes on Building a Retrospective Analysis System MapReduce and Hadoop MapReduce for Parallel Processing Hadoop Open Source Data Storage and Management Solution Why a Traditional RDBMS Falls Short NoSQL and Search Engines NoSQL and Hadoop Chapter 9 Mobile Security Mobile Device Management or Lack Thereof Mobile Applications and Their Impact on Security Security Threats and Hazards in Mobile Computing Cross]Origin Vulnerability Near Field Communication Application Signing Transparency Library Integrity and SSL Verification Challenges Ad Fraud Research Results and Proposed Solutions Infrastructure]Centric Mobile Security Solution Towards the Seamless Integration of WiFi and Cellular Networks Security in the Network Summary Bibliography Index
Read less
Other books by Gregory Clark, Qing Li
Recommended Books for you - See all
OUT OF STOCK
Looks like the book you were looking for is currently not in stock with us. Please leave us your email and phone number.
We will get back to you as soon as it's available.
Your email

Phone No.

Enter characters from image