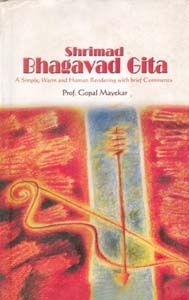 Shrimad Bhagavad Gita A Simple Warm And Rendering With Brief Comments
By: Gopal Mayekar
Product Details:
Share this by email:
ISBN:
9788121208000
Publisher
:
Gyan Publishing House
Year of publishing:
2003
Format:
Hardback
No of Pages:
290
Language
: English
Description About The Author:- M. A. in Marathi and Sanskrit of Mumbai University. Ex - Principal of S.H. Kelkar College, Devgad, Maharashtra and V.N.S. Bandekar College, Mapusa, Goa. Ex-Director College...
Read more
Description About The Author:- M. A. in Marathi and Sanskrit of Mumbai University. Ex - Principal of S.H. Kelkar College, Devgad, Maharashtra and V.N.S. Bandekar College, Mapusa, Goa. Ex-Director College Development Council, Goa University. Ex-Minister of Education, Goa State. Ex-Member of Parliament. Ex-President, Gomantak Marathi Academy, Goa.Contents:- Preface • In the Footsteps of Great Thinkers • Say the Unmanifest • Shrimad Bhagavad Gita • Mysticism : Gita's Ultimate Aim-A Universal Phenomenon of Blissful State of God-realisation • Gita' Messages to Common man- A Programmatic Approach • Mahabharat-The Great Epic • The Epic Story in the Background • Adhyaya 1. Arjun Vishad Yoga-Yoa of Arjuna's Despondecy • Adhyaya 2. Sankhya Yoga-Yoga of Knowledge • Adhyaya 3. Karma Yoga-Yoga of Action • Adhyaya 4. Dhyan Karma Sanyasa Yoga-Yoga of Renunciation Through Knowledge • Adhyaya 5. Karma Sannyasa Yoga-Yoga of Renunciation • Adhyaya 6. Atmasanyama Yoga-Yoga of Meditation • Adhyaya 7. Dnyan-Vidnyana Yoga-Yoga of Knowledge and Experience • Adhyaya 8. Akshara Brahma Yoga-Yoga of Eternal Brahma • Adhyaya 9. Rajavidya Rajaguhya Yoga-Yoga of Mysticism • Adhyaya 10. Vibhooti Yoga-Yoga of Divine Glory • Adhyaya 11. Vshwaroopadarshana Yoga-Yoga of University Form • Adhyaya 12. Bhakti Yoga-Yoga of Devotion • Adhyaya 13. Kshetra-Kshetradnya Vibhag Yoga-Yoga of Field and its Knower • Adhyaya 14. Gunatraya Vibhaga Yoga-Yoga of Three Gunas • Adhyaya 15. Purushottam Yoga-Yoga of Supreme Spirit • Adhyaya 16. Daivsura Sampad Vibhaga Yoga-Yoga of Divine and Demoniac Natures • Adhyaya 17. Shraddha-Traya-Vibhaga Yoga-Yoga of Three Kinds of Faith • Adhyaya 18. Moksha Sannyasa Yoga-Yoga of Salvation Through Renunciation • Gita's Sanskrit Text Roman Transcripitions • Appendix I Vyasa : The Author of Mahabharata • Appendix II Marga : The Path • Appendix III Some Important References from First Adhyay • Appendix IV Indian Deities : Myths and Truth • Appendix V (A) Names, Epithets and Adjectives used for Calling or Addressing Krishna • (B) Names, Epithets and Adjectives used for Calling or Addressing ArjunaAbout The Book:- This Book Is An Humble Adventure In Explaining The Core Contents Of The Bhagavad Gita To Commonplace But Curious Admires. Author'S Aim Is Not To Compete With The Scholarly Works On Gita But To Present A Pragmatic View To Those Who As Beginners Are Eager To Aquaint Themselves With This Great Book With A Desire To Learn The Basic Tenents Of Indian Philosophy And Its Ethics. Since The Gita Philosophy Is Nowadays Becoming Strange To Our Own People, It Can Be Safety Presumed That This Humble Trial Will Also Be Useful To Them, Especially To Indian Youth Who Have Lost Their Identity In The Present Day Turmoil., About The Author:- M. A. In Marathi And Sanskrit Of Mumbai University. Ex - Principal Of S.H. Kelkar College, Devgad, Maharashtra And V.N.S. Bandekar College, Mapusa, Goa. Ex-Director College Development Council, Goa University. Ex-Minister Of Education, Goa State. Ex-Member Of Parliament. Ex-President, Gomantak Marathi Academy, Goa., Content:- Preface • In The Footsteps Of Great Thinkers • Say The Unmanifest • Shrimad Bhagavad Gita • Mysticism : Gita's Ultimate Aim-A Universal Phenomenon Of Blissful State Of God-Realisation • Gita' Messages To Common Man- A Programmatic Approach • Mahabharat-The Great Epic • The Epic Story In The Background • Adhyaya 1. Arjun Vishad Yoga-Yoa Of Arjuna'S Despondecy • Adhyaya 2. Sankhya Yoga-Yoga Of Knowledge • Adhyaya 3. Karma Yoga-Yoga Of Action • Adhyaya 4. Dhyan Karma Sanyasa Yoga-Yoga Of Renunciation Through Knowledge • Adhyaya 5. Karma Sannyasa Yoga-Yoga Of Renunciation • Adhyaya 6. Atmasanyama Yoga-Yoga Of Meditation • Adhyaya 7. Dnyan-Vidnyana Yoga-Yoga Of Knowledge And Experience • Adhyaya 8. Akshara Brahma Yoga-Yoga Of Eternal Brahma • Adhyaya 9. Rajavidya Rajaguhya Yoga-Yoga Of Mysticism • Adhyaya 10. Vibhooti Yoga-Yoga Of Divine Glory • Adhyaya 11. Vshwaroopadarshana Yoga-Yoga Of University Form • Adhyaya 12. Bhakti Yoga-Yoga Of Devotion • Adhyaya 13. Kshetra-Kshetradnya Vibhag Yoga-Yoga Of Field And Its Knower • Adhyaya 14. Gunatraya Vibhaga Yoga-Yoga Of Three Gunas • Adhyaya 15. Purushottam Yoga-Yoga Of Supreme Spirit • Adhyaya 16. Daivsura Sampad Vibhaga Yoga-Yoga Of Divine And Demoniac Natures • Adhyaya 17. Shraddha-Traya-Vibhaga Yoga-Yoga Of Three Kinds Of Faith • Adhyaya 18. Moksha Sannyasa Yoga-Yoga Of Salvation Through Renunciation • Gita'S Sanskrit Text Roman Transcripitions • Appendix I Vyasa : The Author Of Mahabharata • Appendix Ii Marga : The Path • Appendix Iii Some Important References From First Adhyay • Appendix Iv Indian Deities : Myths And Truth • Appendix V (A) Names, Epithets And Adjectives Used For Calling Or Addressing Krishna • (B) Names, Epithets And Adjectives Used For Calling Or Addressing Arjuna
Read less
Recommended Books for you - See all
Price
:
Rs. 540
Rs.401
You save: Rs.139
Vendor :
Gyan Books Pvt.Ltd, Delhi
Free Shipping on all orders of Rs.500 and above. Add Rs.30 otherwise. | Delivered in 5 working days
(Cash on delivery available)
Be assured. 7 days Return & Refund Policy.
Click here
2 offers starting from Rs. 401
Rs.401 + Rs.30 delivery charges

In stock | Delivered in 5 working days

Gyan Books Pvt.Ltd, Delhi

Add to cart

Rs.534 FREE SHIPPING

In stock | Delivered in 5 working days

Anshika Books, Delhi

Add to cart