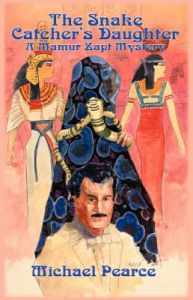 Snake Catcher's Daughter: A Mamur Zapt Mystery
By: Michael Pearce
Product Details: Share this by email:
ISBN:
9781590581148
Publisher
:
Poisoned Pen Press
Year of publishing:
2003
Format:
Paperback / softback
No of Pages:
254 pp
Review
:
Pearce, Michael. The Snake Catcher's Daughter. Apr. 2003 202p. Poisoned Pen, $24.95 (1-59058-051-6). Gareth Owens, Cairo's Intrepid Mamur Zapt (head of the secret police), is back in another...
Read more
Pearce, Michael. The Snake Catcher's Daughter. Apr. 2003 202p. Poisoned Pen, $24.95 (1-59058-051-6). Gareth Owens, Cairo's Intrepid Mamur Zapt (head of the secret police), is back in another seriocomic adventure that is both witty and engrossing. After finding a naked woman in his bed, and after a diamond necklace mysteriously appears in his girlfriend's boudoir, Owen decides someone is trying to bribe him. Then the local newspaper prints a stinging indictment not only of Owen but also of Garvin, commandant of the Cairo police, and his assistant, McPhee. In the course of his investigation, Owen becomes involved in a women's purification ritual, meets a rare female snake catcher, and incurs the wrath of his girlfriend. As usual, though, Owen is at all times the epitome of unflappability, and his calm, sensible, highly intuitive approach eventually leads him to the culprit. Recommend this droll and amusing novel to fans of Elizabeth Peters' Amelia Peabody series (Pearce is Peters'equal to evoking bygone Cairo) or to anyone who enjoys the comic mystery. --Booklist
Read less
Other books by Michael Pearce
Recommended Books for you - See all
Price
:
Rs.1037
Vendor :
Repro Knowledgecast Ltd, Mumbai
FREE SHIPPING | Delivered in 21 working days
(Cash on delivery not available)
Imported Edition
Be assured. 7 days Return & Refund Policy.
Click here