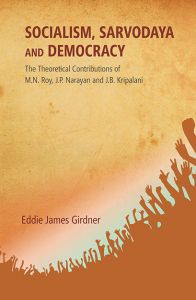 Socialism, Sarvodaya And Democracy: The Theoretical Contributions of M.N. Roy, J.P. Narayan And J.B. Kripalani
Product Details:
Share this by email:
ISBN:
9788121211987
Publisher
:
Gyan Publishing House
Year of publishing:
2013
Format:
Hardback
No of Pages:
302
Language
: English
Description About The Author:- Eddie J. Girdner is a Professor in the Faculty of Business and Economics at Girne American University in Cyprus. He did his Ph.D in Political Science from the University...
Read more
Description About The Author:- Eddie J. Girdner is a Professor in the Faculty of Business and Economics at Girne American University in Cyprus. He did his Ph.D in Political Science from the University of California, Santa Barbara. He has taught Political Science at the University of Alabama, Delta State University, Eastern Mediterranean University (Cyprus), Istanbul Bilgi University, and Baskent University in Ankara, Turkey. He has to his credit many books including Killing Me Softly: Toxic Waste, Corporate Profit and the Struggle for Environmental Justice (NY: Monthly Review Press, 2002); and USA and the New Middle East (New Delhi: Gyan Publishers, 2008).Contents:- Contents # Abst ract: Introduction: The Indian Debate • Asian and Indian Sociali sm • MN: Roy: Jayaprakash Narayan and JB Kripalani: MN Roy on Democratic Socialism: Philosophi cal and Historical Materialism • Cri ticism of: Marxism and Liberalism • Critique of Liberalism and: Utilitarianism • Socialism: Decentralization and Partyless: Democracy: MN Roy on Radical Humanism: Human Nat ure and Freedom • Science: Rationality and: Consciousness • Radical Sel f-Transformation and Social: Change: JP Narayan on Democratic Socialism: Marxism and Nationalism • Democratic Socialism • Critique: of Marxism and Western Socialism: JP Narayan on Sarvodaya: Critique of Parl iamentary Democracy and the St ate •: Partyless Democracy: Communitarianism and Indian: Socialism • Total Revolution: JB Kripalani on Democratic Socialism: Socialism and the State • Philosophy of History • Class: Struggle: Socialism: Sarvodaya and Democracy: JB Kripalani on Gandhian Democracy: The Non-violent Revolution • Gandhian Economic: Princi ples: Decentralization and Sarvodaya • Bas ic: Education and Integral Philosophy: Democracy: Decentralization and Total Revolution: Democracy • Decentral ization • Total Revolution: Conclusion: Socialism and Sarvodaya: Appendix: Bi bliography: IndexAbout The Book:- This Book Attempts To Explicate The Theoretical Writings Of M.N. Roy, Jayaprakash Narayan And J.B. Kripalani To Examine Their Views On Socialism, Sarvodaya And Democracy. Outlining The Parameters Of Sarvodaya, It Takes A Critical Assessment Of M.N. Roy's Views On Democratic Socialism, His Critique Of Marxism And Liberalism, And His Concept Of Radical Humanism.Reconstructing J.P. Narayan's Views On Democratic Socialism, It Examines His Perspective On Marxism, Nationalism And Western Socialism. It Further Discusses In Detail His Views On Sarvodaya, Including His Conception Of Partyless Democracy And Communitarianism, And His Movement For Total Revolution. Finally, It Explicates Kripalani's Philosophy Of Socialism And The State, His Critique Of Marxist Concept Of Class Struggle, And His Interpretaion Of Gandhian Democracy With Special Focus On Non-Violent Revolution, Economic Principles, Decentralization And Basic Education., About The Author:- Eddie J. Girdner Is A Professor In The Faculty Of Business And Economics At Girne American University In Cyprus. He Did His Ph.D In Political Science From The University Of California, Santa Barbara. He Has Taught Political Science At The University Of Alabama, Delta State University, Eastern Mediterranean University (Cyprus), Istanbul Bilgi University, And Baskent University In Ankara, Turkey. He Has To His Credit Many Books Including Killing Me Softly: Toxic Waste, Corporate Profit And The Struggle For Environmental Justice (Ny: Monthly Review Press, 2002); And Usa And The New Middle East (New Delhi: Gyan Publishers, 2008)., Content:- Abst Ract: Introduction: The Indian Debate • Asian And Indian Sociali Sm • Mn: Roy: Jayaprakash Narayan And Jb Kripalani: Mn Roy On Democratic Socialism: Philosophi Cal And Historical Materialism • Cri Ticism Of: Marxism And Liberalism • Critique Of Liberalism And: Utilitarianism • Socialism: Decentralization And Partyless: Democracy: Mn Roy On Radical Humanism: Human Nat Ure And Freedom • Science: Rationality And: Consciousness • Radical Sel F-Transformation And Social: Change: Jp Narayan On Democratic Socialism: Marxism And Nationalism • Democratic Socialism • Critique: Of Marxism And Western Socialism: Jp Narayan On Sarvodaya: Critique Of Parl Iamentary Democracy And The St Ate •: Partyless Democracy: Communitarianism And Indian: Socialism • Total Revolution: Jb Kripalani On Democratic Socialism: Socialism And The State • Philosophy Of History • Class: Struggle: Socialism: Sarvodaya And Democracy: Jb Kripalani On Gandhian Democracy: The Non-Violent Revolution • Gandhian Economic: Princi Ples: Decentralization And Sarvodaya • Bas Ic: Education And Integral Philosophy: Democracy: Decentralization And Total Revolution: Democracy • Decentral Ization • Total Revolution: Conclusion: Socialism And Sarvodaya: Appendix: Bi Bliography: Index
Read less
Recommended Books for you - See all
Price
:
Rs. 900
Rs.668
You save: Rs.232
Vendor :
Gyan Books Pvt.Ltd, Delhi
FREE SHIPPING | Delivered in 5 working days
(Cash on delivery available)
Be assured. 7 days Return & Refund Policy.
Click here
2 offers starting from Rs. 668
Rs.668 FREE SHIPPING

In stock | Delivered in 5 working days

Gyan Books Pvt.Ltd, Delhi

Add to cart

Rs.891 FREE SHIPPING

In stock | Delivered in 5 working days

Anshika Books, Delhi

Add to cart