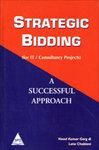 Strategic Bidding: A Successful Approach (for IT / Consultancy), 192 Pages 1st Edition
By: Vinod Garg , Lata Chablani
Product Details:
Share this by email:
ISBN:
9788173668814
Publisher
:
Shroff
Year of publishing:
2004
Format:
Paperback
Language
: English
The book, as the name suggests, is all about defining a structured bidding process and discusses how to analyze the key factors that influence the bidding decisions besides building up confidence for a project's...
Read more
The book, as the name suggests, is all about defining a structured bidding process and discusses how to analyze the key factors that influence the bidding decisions besides building up confidence for a project's successful delivery within the estimated budget.
This book presents in the sequential manner, the structured bidding process, key strategic issues, cost factors and leverage points that should be considered while bidding. The book gradually but logically introduces the method of Bid Analysis, Conceptualizing the Solution, Formulating a response strategy and Preparing proposals. A solved case study towards the end of the book represents the concepts in its practical form to help the readers absorb every bit very quickly. In addition, the various models, templates, checklists and norms help the readers in readily adopting the suggested practices and using it in real life situations to their advantage.
The Case Study, Checklists, etc. in the book specifically highlight issues related to IT industry, however, the approach depicted in the book would substantially enhance the value of the subject matter to student community as well as practitioners in any industry segments.
About the Authors
Vinod Kumar Garg is a Gold Medallist in BE and MTech from I.I.TDelhi with a specialization in Industrial Engineering and Systems. He is a Certified Information System Auditor (CISA), Certified Information Security Manager (CISM), Certified Lead Auditor BS7799, Lead Auditor ISO 9001 and Certified Examiner, Ramakrishna Bajaj Quality Award.
His vast experience is amply substantiated up by his association with world renown Organizations such as Larsen & Toubro, A F Fergusons, NITIE, Lupin Laboratories, Zenith Computers, Rolta India Ltd, CyberTech Systems etc. During the Last ten years, he is on the board of various companies.
During the past 29 years, his career has seen many achievements as a Chief Executive Officer, Management Consultant, Manager, and as a Management teacher. He has authored number of books on ERP, and other Software related subjects. Many of these are now prescribed as textbooks for Management and Computer Science / Engineering Students all over India.
For the past three years, he is actively working with various well known organizations as a Business Advisor. He has developed expertise for, and helped IT organizations in strategizing their estimation, tendering and proposal preparation processes. Mr. Garg has researched, conceptualized and developed effective models and methodologies to help organizations respond in an optimal manner to the various strategic, cost and risk oriented issues associated with handling RFPs, enquiries and large tenders. He has also helped organizations respond to over 100 RFPs floated by Government, Semi Government and private customers. A large number of these have been international and World Bank RFPs. His main strength is his strong background in developing and managing large international and World Bank sponsored projects. At the same time, he brings a pragmatism and realistic approach to the entire process of Bidding, Proposal Preparation and post bid execution of projects that has resulted in a very high percentage of success.
Ms. Lata Chablani is a Master of Computer Science from University of Mumbai and a Certified Software Test Manager (CSTM). Shee has over thirteen years of experience in Information Technology in the areas of Project Management and Application Development using Client Server and E-Solutions / E-Commerce technologies.
She is skilled in the Software Project Estimation process. She has sound experience in estimating projects of varied size and scope, including project requirements of government departments and offshore software projects.
Has successfully lead and managed end to end development and deployment of Portals, B2B, B2C and C2C E-Solutions and E-Business applications. She has successfully managed, developed and implemented a Bank Branch Automation Product at many nationalized banks.
Ms. Lata's practical experience in the area of software comes in from her association with Software Development and IT User companies such as Lupin Laboratories, Cable Corporation, Rolta India Limited, CyberTech Systems and Datamatics. For the past two years, she has been consulting on various training and software consultancy assignments which focus on Software Estimation, Requirements, and Testing, through her partnership company; KnowledgeWare Management Consultants India Pvt. Ltd. She is also a visiting faculty at Computer Science Department of SNDT Women's University.
Read less
Other books by Vinod Garg , Lata Chablani
Recommended Books for you - See all
Price
:
Rs. 390
Rs.387
You save: Rs.3
Vendor :
Sunidhi Ventures Inc., Mumbai
Free Shipping on all orders of Rs.500 and above. Add Rs.30 otherwise. | Delivered in 4 working days
(Cash on delivery available)
Be assured. 7 days Return & Refund Policy.
Click here