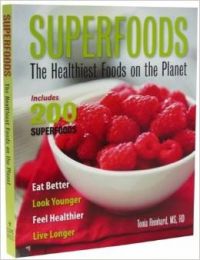 Superfoods: The Healthiest Foods On The Planet (English) (Paperback)
Product Details:
Share this by email:
ISBN:
9781740480529
Publisher
:
GLOBAL BOOK PUBLISHING
Year of publishing:
2014
Format:
Paperback
Language
: English
SUPERFOODS are powerful sources of the essential nutrients we need for our health and well-being. What are these high-powered foods? What can you do to ensure you're getting the most out of them? And can chocolate...
Read more
SUPERFOODS are powerful sources of the essential nutrients we need for our health and well-being. What are these high-powered foods? What can you do to ensure you're getting the most out of them? And can chocolate and coffee really be superfoods? Superfoods will answer these questions and more: - Choose from more than 200 vegetables, mushrooms, legumes, fruits, nuts, grains, cereals and other foods w Select foods with the most nutrients and the lowest calories. Maximize the health benefits of your chosen foods. Create a personalized food portfolio to target your specific health concerns
Read less
Recommended Books for you - See all
Price
:
Rs. 899
Rs.864
You save: Rs.35
Vendor :
B and H Entertainment, Mumbai
FREE SHIPPING | Delivered in 5 working days
(Cash on delivery available)
Be assured. 7 days Return & Refund Policy.
Click here