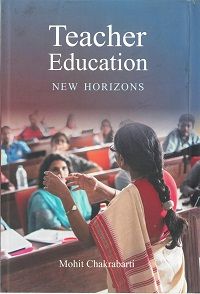 Teacher Education New Horizons
Product Details:
Share this by email:
ISBN:
9789351280514
Publisher
:
Kalpaz Publications
Year of publishing:
2014
Format:
Hardback
No of Pages:
222
Language
: English
Description About The Author:- Mohit Chakrabarti , D.Litt.: Former Professor, Visva-Bharati University, Shantiniketan and Former Visiting Professor, Rabindra-Bharati University, Kolkata. He has been teaching...
Read more
Description About The Author:- Mohit Chakrabarti , D.Litt.: Former Professor, Visva-Bharati University, Shantiniketan and Former Visiting Professor, Rabindra-Bharati University, Kolkata. He has been teaching English and Education for nearly five decades. He was honoured with National Award as Teacher Educator He is associated with different universities, National Assessment and Accreditation Council (NAAC), National Council for Teacher Education (NCTE), and educational institutions. Professor Chakrabarti has recently acted as member, Teacher Education for Curriculum Renewal, National Focus Group on Teacher Education, NCERT, New Delhi, and in National Curriculum Framework for Teacher Education (NCFTE), NCTE, and New Delhi. He is a consistent and prolific contributor to studies and researches on Mahatma Gandhi, Rabindranath Tagore and Swami Vivekananda. He also writes books for children in Bengali and English.Contents:- Preface 9 1. Quality Enrichment in Teacher Education 13 2. Post-accreditation Strategies for Quality Sustenance in Teacher Education: Aesthetic Parameters 27 3. Teaching in the Twenty-first Century: Gandhian Perspectives 39 4. Teacher Education and Inter-relativity between Educational Processes and Environment 55 5. Teacher Education and School-internship: A Quest for Quality enrichment 65 6. Teacher Education and Professional Development of Teacher Educators: A Quest for Excellence 81 7. Teacher Education and the Individual Leamer: Setting New Agenda for Negotiating Needs 95 8. Vibrant Teacher Education: Vivekananda's Viewpoints 103 9. Teacher Education and the Evolving Teacher: Sri Aurobindo's Guidelines 121 10. Teacher Education and Education for Cultural Development: Exploring Dynamic Avenues of Efflorescence 11. Teacher Education and Reflective Teaching 173 12. Teacher Education and Tutoring 189 13. Postscript 203 Index 215About The Book:- Education Is A Very Challenging Activity. Teacher Education Is A More Challenging One Because It Is Concerned With Numerous Challenges That Necessitate Special Care And Attention, Appreciation And Evaluation. Right From Professional Development To Setting New Agenda For Negotiating Diverse Needs Of All Associated Stakeholders, It Is Always In Quest Of Quality And Excellence From Different Perspectives In Perfect Tune With Available Or Likely To Be Available Climate Of Serenity And Poignance. Teacher Education: New Horizons Encapsulates Some Of The Recent Trends And Possibilities, Challenges And Guidelines In The Arena Of Teacher Education Where Aesthetics, Quality Enrichment And Post-Accreditation Strategies Besides The Critical Studies On Illustrious Educational Thinkers To Advancement Of Teacher Education Have Been Ardently Discussed. A Constant And Stimulating Companion To Anyone Interested In Exploring New Horizons In Teacher Education., About The Author:- Mohit Chakrabarti , D.Litt.: Former Professor, Visva-Bharati University, Shantiniketan And Former Visiting Professor, Rabindra-Bharati University, Kolkata. He Has Been Teaching English And Education For Nearly Five Decades. He Was Honoured With National Award As Teacher Educator He Is Associated With Different Universities, National Assessment And Accreditation Council (Naac), National Council For Teacher Education (Ncte), And Educational Institutions. Professor Chakrabarti Has Recently Acted As Member, Teacher Education For Curriculum Renewal, National Focus Group On Teacher Education, Ncert, New Delhi, And In National Curriculum Framework For Teacher Education (Ncfte), Ncte, And New Delhi. He Is A Consistent And Prolific Contributor To Studies And Researches On Mahatma Gandhi, Rabindranath Tagore And Swami Vivekananda. He Also Writes Books For Children In Bengali And English., Content:- Preface 9 1. Quality Enrichment In Teacher Education 13 2. Post-Accreditation Strategies For Quality Sustenance In Teacher Education: Aesthetic Parameters 27 3. Teaching In The Twenty-First Century: Gandhian Perspectives 39 4. Teacher Education And Inter-Relativity Between Educational Processes And Environment 55 5. Teacher Education And School-Internship: A Quest For Quality Enrichment 65 6. Teacher Education And Professional Development Of Teacher Educators: A Quest For Excellence 81 7. Teacher Education And The Individual Leamer: Setting New Agenda For Negotiating Needs 95 8. Vibrant Teacher Education: Vivekananda's Viewpoints 103 9. Teacher Education And The Evolving Teacher: Sri Aurobindo's Guidelines 121 10. Teacher Education And Education For Cultural Development: Exploring Dynamic Avenues Of Efflorescence 11. Teacher Education And Reflective Teaching 173 12. Teacher Education And Tutoring 189 13. Postscript 203 Index 215
Read less
Other books by Mohit Chakrabarti
Recommended Books for you - See all
Price
:
Rs. 675
Rs.501
You save: Rs.174
Vendor :
Gyan Books Pvt.Ltd, Delhi
FREE SHIPPING | Delivered in 5 working days
(Cash on delivery available)
Be assured. 7 days Return & Refund Policy.
Click here
2 offers starting from Rs. 501
Rs.501 FREE SHIPPING

In stock | Delivered in 5 working days

Gyan Books Pvt.Ltd, Delhi

Add to cart

Rs.668 FREE SHIPPING

In stock | Delivered in 5 working days

Anshika Books, Delhi

Add to cart