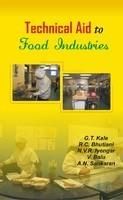 Technical Aid to Food Industries
Product Details:
Share this by email:
ISBN:
9788176221733
Publisher
:
Biotech
Year of publishing:
2007
Format:
Hardcover
No of Pages:
xvi, 270
Language
: English
The papers published in this book describe the present state of the Indian Food Industries and the technical problems facing them. The first 12 papers deals with the general subject of technical aid to the industry...
Read more
The papers published in this book describe the present state of the Indian Food Industries and the technical problems facing them. The first 12 papers deals with the general subject of technical aid to the industry and lay stress on the problems involved in the improvement of quality of processed food products. These are followed by accounts of the technical problems of individual industries or groups of allied food industries. The industries dealt with are biscuit and bakery, breakfast foods, flour and barley milling, confectionary, Indian sweets, cocoa and chocolates, fruit and vegetables, gelatine, cold storage and deep freezing, oil milling, fish and the typically Indian Industry--Pan Suapri. The various contributions emphasize generally the need for a liasion between agri-horticultural authorities and the food processing industry, for cheaper and good quality raw materials, utilization of indigenous materials required in processing techniques, fabrication of equipment required for small and large-scale industries and adoption of modern scientific methods. Contents Chapter 1: Recent Advances in the Development of Food Industry in India by V A Mehta; Chapter 2: What an Indian Food Industry Needs by N R Sathe; Chapter 3: The Urgent Needs of the Indian Food Preservation Industry by L I Desouza; Chapter 4: Some Technical Problems of Food Industries Supplying Foodstuffs to Defence Services by B Banerjee; Chapter 5: Quality of Production in Food Industries in India by Girdhari Lal; Chapter 6: Importance of Standards for the Indian Food Processing Industry by H A B Parpia; Chapter 7: Chemical Engineering in Food Industries by Y K Raghnatha Rao; Chapter 8: Aid to Industry through Proper Storage of Foodstuffs by S V Pingale; Chapter 9: The Need for Statistical Quality Control in Food Industries by S K Ekambaram; Chapter 10: Requirements of Indian Food Industries: Raw Materials, Plant and Personnel by N V R Iyengar & Y K Raghuntha Rao; Chapter 11: The Biscuit Industry in India by Sunder Dass H Kukereja; Chapter 12: The Necessity of Standardization of Raw Materials for the Biscuit Industry by N M Chauhan; Chapter 13: Technical Aid to Baking Industries by R B Rado; Chapter 14: Technical Control in Cereal Processing and Baking Industry by G S Bain & D S Bhatia; Chapter 15: Modification in Shortening for Biscuits by M R Sahasrabudhe; Chapter 16: Raw Material Standards for the Indian Barley Industry by M N Reid; Chapter 17: The Basic Need of the Chocolate Industry by G T Kale; Chapter 18: Technical Aid to Confectionary Industry by K Lakkappa, Chapter 19: Some Technical Problems of the Confectionary Industry in India by S N Gundu Rao & H R S Iyengar; Chapter 20: Problems Connected with the Development of Indian Sweets Industry by W B Date; Chapter 21: Technical Aid to Cold Storage Industry in India by P B Mathur & K Kirpal Singh; Chapter 22: Quick Freezing of Perishable Foods Man Mohan Singh; Chapter 23: Refrigeration Applications in Fruit and Vegetable Industry by N S Chadha; Chapter 24: Storage and Preservation of Seed Potatoes by M/s Volkart Brothers, Chapter 25: Cold Storage Facilities for the Fishing Industry by M/s Volkart Brothers, Chapter 26: Protein Hydrolysate from Waste Shark Flesh and Other Uneconomical Varieties of Fish by G B Mohanty & A B Roy; Chapter 27: Retrospect and Prospect of Fruit Preservation Industry in India by S Ranganna & C V Paul; Chapter 28: Technical Aid to the Fruit and Vegetable Preservation Industry by M/s G G Industries; Chapter 29: Some Aspects of the Working of the Fruit Products Order by P H Bhatt; Chapter 30: Factories Act--Hardship of the Potato Cold Storage Units by M/s Farrukhabad Cold Storage Limited; Chapter 31: Microbiological Aid to Fruit and Vegetable Preservation Industries by D S Johar & J C Anand; Chapter 32: Preservation of Fruit Juices by N Thandavan; Chapter 33: Fruit Preservation in Mysore by B P Mascarenhas; Chapter 34: Fruit and Vegetable Preservation industry of Assam--Its Present and Future by L K Handique; Chapter 35: Potato Seed Trade of Bihar by Prabhudatta Mukerji; Chapter 36: A Plea for Developing and Modernizing Fruit Preservation as a Cottage Industry through Comprehensive Technical Aid by P V Surya Prakasa Rao; Chapter 37: Technical Problems in Packaging by T M Rama Aiyangar; Chapter 38: Tannery By-products for the Manufacture of Edible Gelatine by Y Nayudamma; Chapter 39: The Manufacture of Edible Gelatine in India by H C Bijawat; Chapter 40: Vegetable Oil Refining Industry by C S Srinivasan; Chapter 41: Problems in Coffee Technology and Research by C P natarajan & D S Bhatia; Chapter 42: Needs for Developing Fermentation Industries in India by B S Lulla and D S Johar; Chapter 43: Utilization of Fruits for Wine Making by D S Johar & J C Anand; Chapter 44: Problems of a Small Scale Industry: Pan Supari by M K Krishan Chetty.
Read less
Recommended Books for you - See all
Price
:
Rs. 695
Rs.576
You save: Rs.119
Vendor :
Astral International Pvt. Ltd., Delhi
FREE SHIPPING | Delivered in 5 working days
(Cash on delivery available)
Be assured. 7 days Return & Refund Policy.
Click here