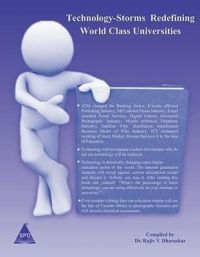 Technology Storms Redefining World Class Universities (English) 1st Edition
Product Details:
Share this by email:
ISBN:
9789351103080
Publisher
:
Shroff Pub & Dist. Pvt. Ltd
Year of publishing:
2013
Format:
Paperback
No of Pages:
416
Language
: English
The Technology-storm has stretched the boundaries of Universities across the globe. The Digital revolution is changing the dimensions of student's Learning Space beyond the campuses. The classrooms are converted...
Read more
The Technology-storm has stretched the boundaries of Universities across the globe. The Digital revolution is changing the dimensions of student's Learning Space beyond the campuses. The classrooms are converted into Global Studios. Through Technology, the Teachers are playing the role of Universal Connectors to International Knowledge Hubs. The Games & Simulation Technologies are changing the Pace of Human Learning. The Google, Interactive E-Books, Digital Library adding global component to University Libraries. The Administrators are using range of CRM software along with Social Networking to manage customers like alumni, international students and campus placement and companies across the globe. The Cloud Computing, VNC and BYOD are pushing the computer labs and server rooms to the remote corners of the earth. The Virtual and Augmented Reality technologies facilitate the global laboratories and adding new dimension to learning. University Industry Technological Partnerships are diluting Geographical Boundaries between Nations. The technology facilitates satellite campuses throughout the world. On the top of this, the e-learning technology, YouTube, Wikipedia, Video Repositories, Open Course Ware, Podcast and MOOC are threatening the existence of University Empires. The Collaborative software, Facebook, LinkedIn, Smart Phones, Kindle, all these have changed the way society has de ned its boundaries. The 3D Printing is reshaping Teaching, Learning, Visualization Capability, Rate of Innovations at universities, industries and medical eld. Robot Surgery is revamping medical profession. Virtual O ce tools, Online Surveillance Systems, Paperless o ce and Integrated Internet based Management Information Systems gives the power to operate the university o ce from any corner of the globe. One cannot a ord to overlook these EDU-storms. It's all about journey from Campus 1.0 to Campus 2.0
Read less
About the author:
Rajiv V. Dharaskar
Recommended Books for you - See all
Price
:
Rs. 960
Rs.951
You save: Rs.9
Vendor :
Sunidhi Ventures Inc., Mumbai
FREE SHIPPING | Delivered in 5 working days
(Cash on delivery available)
Be assured. 7 days Return & Refund Policy.
Click here