Buy Books Online
>
Baseball
> The Boys of October: How the 1975 Boston Red Sox Embodied Baseball's Ideals and Restored Our Spirits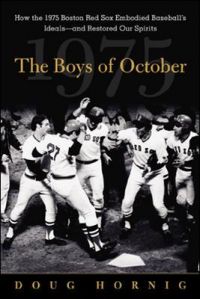 The Boys of October: How the 1975 Boston Red Sox Embodied Baseball's Ideals and Restored Our Spirits
By: Doug Hornig
Product Details:
Share this by email:
This title provides an inspiring look at the underdog heroes of the "1975 World Series". In the fall of 1975, the country was mired in the aftereffects of the war in Vietnam, economic distress, and lingering...
Read more
This title provides an inspiring look at the underdog heroes of the "1975 World Series". In the fall of 1975, the country was mired in the aftereffects of the war in Vietnam, economic distress, and lingering political turmoil from the Watergate scandal. Amid these trying times, Americans were desperate for some kind of diversion - anything to take their minds away from the harsh news of the day.That diversion arrived in the form of an unforgettable Fall Classic that truly would live up to its name. In his lyrical prose, lifelong Boston Red Sox fan Doug Hornig takes readers back to that exhilarating autumn in 1975, when Carl Yastrzemski, Carlton Fisk, Luis Tiant, and the ragtag Boys from Beantown faced Cincinnati's Pete Rose, Joe Morgan, Johnny Bench, and the rest of the indomitable "Big Red Machine" in an epic seven-game struggle that is still widely regarded as the greatest ever played. Doug Hornig was there - with his favorite uncle, Oscar, by his side, a man old enough to dimly recall the last time the Sox won a Series, back in 1918. Together, in the stands at cozy Fenway or in front of a snowy black-and-white TV, they watched and waited and prayed.In the end, the Curse of the Bambino struck again, but not before the Red Sox gave us one hell of a show.
For twelve wonderful days, Americans were able to put aside their more serious concerns and lose themselves in the drama unfolding on two small fields of green. As the author so eloquently puts it, "For that lovely, long October moment, we became as children once again. And that is a gift of incalculable value." Years later, moved by memories of that incomparable series, Hornig set out to meet and interview the members of the 1975 Boston Red Sox, a cast of characters that included party animals and pot smokers, with nicknames like Pudge and Yaz, Carbs and Willow, Senor and the Spaceman.Those candid conversations - Luis Tiant talking pitching in a motel coffee shop, "Spaceman" Bill Lee discussing philosophy at his rural hippie hideaway - are all here, skillfully woven together with a moving memoir and an exciting play-by-play of the triumphs and tribulations of that October classic: from "El Tiante"'s Game 1 shutout to Fisk's historic winning homer in the wee hours of Game 6 and the nail-biting finale, decided by a single, heart-stopping run.
Through it all, the underdog Red Sox embodied the spirit of the game, in victory and defeat, to give us the Series we needed--and one we'll never forget.Against the backdrop of one of American society's low points, "The Boys of October" celebrates baseball and the heroes who made it what it is. Doug Hornig has published seven suspense novels, one of which was nominated for an Edgar. He has also written articles for such publications as "Playboy", "BusinessWeek", "The Writer", and "Gadfly". A native New Englander, he still follows the Sox from his home in Afton, Virginia. ""The 1975 World Series" changed the way Americans felt about baseball. Watching these games was like blowing the dust off a favorite book and reading it for the first time in twenty years." - Boston sportswriter Dan Shaughnessy. "I have had no time to mourn the boys of October. Doug Hornig's book for me is reconciliation with my nemesis and my ghosts. It can be read now! Mea culpa! Mea culpa!" - Bill Lee.They say that baseball is about going home.
In this elegant meditation on an unforgettable Fall Classic, lifelong Red Sox fan Doug Hornig goes home to find the heroes who made the "1975 World Series" a sports masterpiece. Skillfully weaving together first-person interviews with members of the '75 Sox, an exciting play-by-play of the Series' most memorable moments, and a moving memoir of the author's relationship with his favorite uncle - a retired ballplayer himself - Hornig brings us back with him to the cobblestoned streets of Boston in a time when the country was still reeling from the turmoil of war, economic crisis, and political disillusionment. Although 1975 was not a very good year, it did give us some phenomenal baseball and a team that, even in loss, embodied the American spirit in its perseverance and sheer courage, teaching us lessons that continue to reverberate with meaning today.
Read less
About the author:
Doug Hornig
Recommended Books for you - See all
OUT OF STOCK
Looks like the book you were looking for is currently not in stock with us. Please leave us your email and phone number.
We will get back to you as soon as it's available.
Your email

Phone No.

Enter characters from image