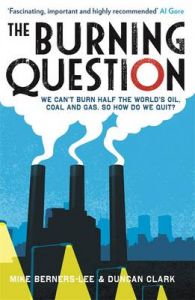 The Burning Question: We Can't Burn Half the World's Oil, Coal and Gas. So How Do We Quit?
By: Mike Berners-Lee
Product Details:
Share this by email:
ISBN:
9781781250457
Publisher
:
Profile Books Ltd
Year of publishing:
2013
Format:
Paperback
No of Pages:
256
About the author:
Mike Berners-Lee
Review
:
Praise for How Bad Are Bananas? 'It is terrific. I can't remember the last time I read a book that was more fascinating and useful and enjoyable all at the same time -- Bill Bryson An engaging book...
Read more
Praise for How Bad Are Bananas? 'It is terrific. I can't remember the last time I read a book that was more fascinating and useful and enjoyable all at the same time -- Bill Bryson An engaging book that manages to present serious science without preaching New Scientist Enjoyable, fun to read and scientifically robust. A triumph of popular science writing -- Chris Goodall The image of scientists and academics used to be one of calm people mildly watching the world of data and prodding it now and again. Today, the frustration among many is palpable. This book shows why. The gap between evidence, policy and practice is yawningly wide. And widening. This book tries to bridge that gap, offering a reasoned account of the problem and suggesting where and how we might change as consuming societies. In my own area of food, this seems to point one way - culture change. Read this and it'll help you think about the options for how to do that -- Timothy Lang The issues explored in The Burning Question are hugely important. Policymakers and the public urgently need to be engaging in this kind of big-picture conversation -- Jim Hansen It's terrifyingly simple. Burning carbon made our modern industrial world. Now we've got to stop burning it. We've got to stop drilling for oil and gas, and leave the coal in the ground. We've got to prick the carbon bubble, write off half the assets of the world's biggest industry, break the infrastructure and mental lock-in that is preventing viable new energy technologies from taking over. This is the big-picture story of why and how that must happen. And why, so far, we are abjectly failing. Brilliant. -- Fred Pearce, , author of The Last Generation, How nature will take her revenge for climate change This is a book that needs to be written: it asks the right question then seeks the most effective ways of answering it. It's an essential contribution to our thinking about climate change -- George Monbiot An extremely clear-sighted, highly readable account of the factors fanning the flames of climate change with plenty of practical suggestions how to set about extinguishing them. It left me more determined than ever to keep trying to spread ripples of disruption through the fossil fuel industry until they get the message that things must change and rapidly -- Bryony Worthington Durwood is a bigwig in global climate/environment policy and the leading light pushing for action on methane, soot and the other fast-acting gases -- Durwood Zaelke At a time when we're making the climate debate 'small', a series of bite sized chunks each to be 'smuggled' through a resistant policy system, Berners Lee and Clark remind us that the debate is actually 'huge' in its global scope, it's likely impact and, most importantly of all, the solutions we need to adopt -- Mike Barry The Burning Question' is a fascinating examination of the forces that have led to our current predicament and it presents an important framework for a sustainable future. I recommend it highly. The climate crisis is a challenge unprecedented in its scale and complexity. We simply must confront this existential challenge and stop making it worse. That will require the awakening and activism of people all around the world. -- Al Gore Mike Berners-Lee and Duncan Clark have lit a beacon for the wayward, listing ships of climate thinking ... This is number-crunching and synthesis at their best, richly informed by realities political and psychological as well as scientific. Berners-Lee and Clark are clear-eyed ... and their strategy for action is nuanced and evidence-based. For those who, like me, witnessed the climate stalemate at Copenhagen in 2009, this is a book we have been waiting for -- Richard Van Noorden Nature Probably the best synthesis of the key arguments over climate change that I've read. As well as being an accessible, easy read, the authors have successfully avoided getting side-tracked or bogged down with any of the wonkery that too often surrounds the debate about global warming ... Clark and Berners-Lee have managed to bring a refreshing new clarity to the debate. -- Joss Garman Greenpeace
Read less
Recommended Books for you - See all
Price
:
Rs. 1106
Rs.957
You save: Rs.149
Vendor :
S.V. Enterprise., Mumbai
FREE SHIPPING | Delivered in 3 working days
(Cash on delivery available)
Be assured. 7 days Return & Refund Policy.
Click here