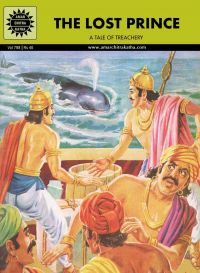 The Lost Prince (798)
By: Subba Rao
Product Details:
Share this by email:
ISBN:
9788184824988
Publisher
:
Amar Chitra Katha Pvt. Ltd.
Year of publishing:
1983
Format:
Paperback
No of Pages:
32
Language
: English
Prince Kshemankara was a kind and generous person. His younger brother, Papankara, was more suspicious by nature.Kshemankara decided to take a fleet of ships and search for riches in other lands. Papankara...
Read more
Prince Kshemankara was a kind and generous person. His younger brother, Papankara, was more suspicious by nature.Kshemankara decided to take a fleet of ships and search for riches in other lands. Papankara went along with him. During a storm their ship capsized. Kshemankara managed to get his unconscious brother to the shore, before he too collapsed. Many months later, Papankara returned home alone and was made king. What could have happened to Kshemankara? Originally of Indian origin, the tale travelled with Buddhist monks to monastries in Tibet. It was found by European travellers in the nineteenth and twentieth centuries and translated into English
Read less
About the author:
Subba Rao
Other books by Subba Rao
Recommended Books for you - See all
Price
:
Rs.70
Vendor :
ACK Media Direct Limited, Mumbai
Free Shipping on all orders of Rs.500 and above. Add Rs.30 otherwise. | Delivered in 21 working days
(Cash on delivery not available)
Imported Edition
Be assured. 7 days Return & Refund Policy.
Click here