Buy Books Online
>
Cultural studies
> The Only Son Offered For Sacrifice Isaac Or Ishmael With Zamzam, Al-Marwah And Makkah In The Bible And A Brief Account of The History of Solomon's Temples And Jerusalem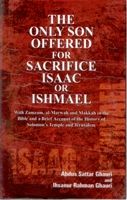 The Only Son Offered For Sacrifice Isaac Or Ishmael With Zamzam, Al-Marwah And Makkah In The Bible And A Brief Account of The History of Solomon's Temples And Jerusalem
By: Abdus Sattar Ghauri & Ihsanur Rehman Ghauri
Product Details:
Share this by email:
ISBN:
9788121210294
Publisher
:
Gyan Publishing House
Year of publishing:
2009
Format:
Hardback
No of Pages:
338
Language
: English
Description Contents:- Contents: Foreword Preface Introduction 1. The Story of the `Offering` in the Bible : i. The Bible Story ii. The Status of the Statement of the Bible 2. Abraham was Required to Offer...
Read more
Description Contents:- Contents: Foreword Preface Introduction 1. The Story of the `Offering` in the Bible : i. The Bible Story ii. The Status of the Statement of the Bible 2. Abraham was Required to Offer his `Only Son` for Sacrifice 3. The Tradition of Offering the `First-fruit` or the `First-born Son` 4. Abraham was Required to Offer his `Beloved Son` for Sacrifice 5. The Sites Claimed to be `Moriah` (As the Place of Offering) by the Scholars of the Bible : i. On a Mountain Near Hebron ii. At Mount Calvary where Christ is claimed to be Crucified iii. At Mount Gerizim 6. Jerusalem as the Site Claimed to be `Moriah` (the Place of Offering) by the Scholars of the Bible 7. The Actual Site of `Moriah` or `al-Marwah` (as the `Arabs Pronounce it) : i. Actual Site of Moriah; Unknown to the Scholars of the Bible 8. Some Questions to Trace the Actual Site of `Moriah` : i. The Questions Answered 9. Makkah and Arabia as the House of the Progeny of Ishma`el Havilah. Shur 10. The Mention of the Offering of Sacrifices at Makkah in the Book of Isaiah 11. The Pilgrimage of Bakkah in the Psalms of David : i. Bakkah had provided Refuge to David in his ii. Days of Trouble iii. The Exact Proper Name of Baca/Bakkah iv. The Site of Bakkah is Unknown to the Scholars of the Bible v. The Actual Site of Bakkah PrintedAbout The Book:- According To The Jews And The Christians The `Only Son` Whom God Had Asked Abraham To Offer For Sacrifice, Was `Isaac` And Not `Ishmaa`El`. The Bible Has Recorded The Story The Story In A Fairly Detailed Narrative. It Is Only Once In The Whole Of The Narrative That The Name Of The `Only Son` Has Been Mentioned As `Isaac`, Which Is Quite Misfit In, Rather Contrary To, The Context. The Event Of The Offering For Sacrifice Was Committed To Writing In The Bible More Than A Thousand Years After Its Happening. It Is Quite Unknown Who Is Writer Had Been And What His Credentials Might Be; But, Of Certain, He Was Not The Eyewitness Of The Event. The Present Work Is Neither Of Polemical Nature Nor Simply A General Informative Paper. It Is An Attempt To Address A Long Discussed Problem On The Principal Of Objective Research. It Has Been Tried Not To Make Any Assertion Or Set Forth An Explanation To Some Word Or Theme Without Affording A Referential Authority. It Has Also Been Tried To Provide Sufficient Evidence To Establish The Themes That It May Not Be Blamed To Be Based On Scanty Or One-Sided Evidence. It Has Further Been Tried To Present The Evidence Faithfully And Without Any Manipulations.,Content:- Foreword Preface Introduction 1. The Story Of The `Offering` In The Bible : I. The Bible Story Ii. The Status Of The Statement Of The Bible 2. Abraham Was Required To Offer His `Only Son` For Sacrifice 3. The Tradition Of Offering The `First-Fruit` Or The `First-Born Son` 4. Abraham Was Required To Offer His `Beloved Son` For Sacrifice 5. The Sites Claimed To Be `Moriah` (As The Place Of Offering) By The Scholars Of The Bible : I. On A Mountain Near Hebron Ii. At Mount Calvary Where Christ Is Claimed To Be Crucified Iii. At Mount Gerizim 6. Jerusalem As The Site Claimed To Be `Moriah` (The Place Of Offering) By The Scholars Of The Bible 7. The Actual Site Of `Moriah` Or `Al-Marwah` (As The `Arabs Pronounce It) : I. Actual Site Of Moriah; Unknown To The Scholars Of The Bible 8. Some Questions To Trace The Actual Site Of `Moriah` : I. The Questions Answered 9. Makkah And Arabia As The House Of The Progeny Of Ishma`El Havilah. Shur 10. The Mention Of The Offering Of Sacrifices At Makkah In The Book Of Isaiah 11. The Pilgrimage Of Bakkah In The Psalms Of David : I. Bakkah Had Provided Refuge To David In His Ii. Days Of Trouble Iii. The Exact Proper Name Of Baca/Bakkah Iv. The Site Of Bakkah Is Unknown To The Scholars Of The Bible V. The Actual Site Of Bakkah Printed
Read less
Recommended Books for you - See all
Price
:
Rs. 750
Rs.557
You save: Rs.193
Vendor :
Gyan Books Pvt.Ltd, Delhi
FREE SHIPPING | Delivered in 5 working days
(Cash on delivery available)
Be assured. 7 days Return & Refund Policy.
Click here
2 offers starting from Rs. 557
Rs.557 FREE SHIPPING

In stock | Delivered in 5 working days

Gyan Books Pvt.Ltd, Delhi

Add to cart

Rs.742 FREE SHIPPING

In stock | Delivered in 5 working days

Anshika Books, Delhi

Add to cart