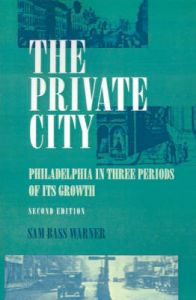 The Private City: Philadelphia in Three Periods of Its Growth
By: Sam Bass Warner, Jr.
Product Details:
Share this by email:
This award-winning book charts the unfolding, from the Revolutionary War to the Great Depression, of the American tradition of city building and city living, using Philadelphia as a resonant example.
Review
:
Packed with suggestive historical detail."-American Historical Review "With a skillful use of carefully researched detail, Warner relates the transformation from a handicraft to a factory system of...
Read more
Packed with suggestive historical detail."-American Historical Review "With a skillful use of carefully researched detail, Warner relates the transformation from a handicraft to a factory system of production to the pervasive quest for private gain, and shows how that basic objective restricted the city's response to such community needs as education, health, and welfare... His book is packed with suggestive historical detail."-American Historical Review "[This book] serves, in a way which no other city biography can claim to, as the historical analogy of urban America."-Urban Studies "Written with intelligent elegance and candor... A fascinating book."-Times Literary Supplement "A splendidly economical and enlightening piece of urban history... Contributes more than an important remedial lesson in the cultural foundation of the urban crisis."-American Institute of Planners Journal
Read less
Recommended Books for you - See all
Price
:
Rs.1731
Vendor :
Repro Knowledgecast Ltd, Mumbai
FREE SHIPPING | Delivered in 21 working days
(Cash on delivery not available)
Imported Edition
Be assured. 7 days Return & Refund Policy.
Click here