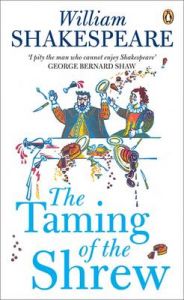 The Taming of the Shrew (English)
Product Details:
Share this by email:
ISBN:
9780141015514
Publisher
:
Penguin Books Ltd
Year of publishing:
2006
Format:
Paperback
No of Pages:
288
Language
: English
A relentlessly witty battle of the sexes, William Shakespeare's comedy The Taming of the Shrew is edited by G.R. Hibbard, with an introduction by Margaret Jane Kidnie in Penguin Shakespeare. The beautiful...
Read more
A relentlessly witty battle of the sexes, William Shakespeare's comedy The Taming of the Shrew is edited by G.R. Hibbard, with an introduction by Margaret Jane Kidnie in Penguin Shakespeare. The beautiful but sharp-tongued 'shrew' Katherina has sworn never to accept the demands of any would-be husband. Her younger sister Bianca, meanwhile, is forbidden to be married until Katherina finds a suitable match - much to the dismay of Bianca's would-be suitors, Hortensio and Gremio. But when Katherina is pursued by the wily Petruchio, it seems that she has finally met her match. And as he meets her own caustic words with a feigned, capricious cruelty, Katherina quickly comes to understand the absurdity of her shrewish behaviour, in one of the greatest of all comic conquests. Famously adapted into Cole Porter's musical Kiss Me, Kate and filmed as 10 Things I Hate About You with Heath Ledger and Julia Stiles, The Taming of the Shrew is an unforgettable battle of wits. This book contains a general introduction to Shakespeare's life and Elizabethan theatre, a separate introduction to The Taming of the Shrew, a chronology, suggestions for further reading, an essay discussing performance options on both stage and screen, and a commentary. William Shakespeare (1564-1616) was born to John Shakespeare and Mary Arden some time in late April 1564 in Stratford-upon-Avon. He wrote about 38 plays (the precise number is uncertain), many of which are regarded as the most exceptional works of drama ever produced, including Romeo and Juliet (1595), Henry V (1599), Hamlet (1601), Othello (1604), King Lear (1606) and Macbeth (1606), as well as a collection of 154 sonnets, which number among the most profound and influential love-poetry in English. If you enjoyed The Taming of the Shrew, you might like Love's Labour's Lost, also available in Penguin Shakespeare. 'I pity the man who cannot enjoy Shakespeare' George Bernard Shaw
Read less
About the author:
William Shakespeare
Other books by William Shakespeare
Recommended Books for you - See all
Price
:
Rs. 750
Rs.742
You save: Rs.8
Vendor :
S.V. Enterprise., Mumbai
FREE SHIPPING | Delivered in 5 working days
(Cash on delivery available)
Be assured. 7 days Return & Refund Policy.
Click here