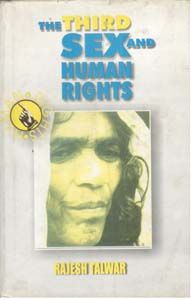 The Third Sex And Human Rights
By: Rajesh Talwar
Product Details:
Share this by email:
ISBN:
9788121206426
Publisher
:
Gyan Publishing House
Year of publishing:
1999
Format:
Hardback
No of Pages:
216
Language
: English
law at Delhi University and Jamia Millia Islamia for a period of six years. In 1996 he went to the U.K. on a British Chevening scholarship, from where he did his LL.M. in Human Rights Law from the University...
Read more
law at Delhi University and Jamia Millia Islamia for a period of six years. In 1996 he went to the U.K. on a British Chevening scholarship, from where he did his LL.M. in Human Rights Law from the University of of Nottingham. He has written extensively on legal and non-legal subjects for various newspapers and magazines, and has authored several books, both non-fiction as well as fiction. Making Your Own Will (Vision Books, 1992) was followed by The Judiciary on Trial (Cosmos, 1995), How to Choose Your Lawyer (Vision Books, 1998), The Divorce Handbook (Vision Books, 1999), The Third Sex and Human Rights (Gyan Publishing House, 1999), Inside Gayland (Kalpaz Publications, 2001) and The Laws of E-Business in India (Vision Books, 2001). Forthcoming books include a collection of children's stories.Contents:- Acknowledgements • Preface • Introduction • Judgments of Various Courts • Legal/Other Problems Faced by Transsexuals • Legal/Other Problems Faced by Hijras • Hijars and International Human Rights Law • Conclusion • Appendix A?Signification Indian Documents • write petition field in the Delhi High Court on behalf of the Aids Bhedbhav Virodhi Andolan (A.B.V.A) challenging the constitutional validity of Section 377, Indian Penal Code and segregation and /or compulsory testing of prisoners • Counter-Affidavit by the National Aids Control Organization, Respondent No. 6 • Extract from report by CALERI (Campaign for Lesbian Rights) in 1999 • Extracts from Act no. XXVII of 1871, For the Registration of Criminal Tribes and Eunuchs • A Testing Time for Prisoners • A Criminal Conspiracy to Test the Aids Vaccine • Appendix B?Relevant International Human Rights Instruments and Documents /Declaration in the Context of AIDS • Universal Declaration of Human Rights • International Covenant on Economic, Social and Cultural Rights • International Convenant on Civil and Political Rights • International Convention on the Elimination of All forms of Racial Discrimination • International Convention Against Torture and other Cruel, Inhuman, or Degrading Treatment or Punishment • United Nations Commission on Human Rights Resolution on HIV/AIDS (Resolution 1995/44 adopted on 3rd March, 1995) • The Protection of Human Right in the Context of Human Immunodeficiency Virus (HIV) and Acquired Immunodeficiency Syndrome (AIDS) • Resolution 42/8 of the Forty-Second General Assembly of the United Nations • Resolution WHA 42.33 of the Forty-Second World health Assembly • Resolution WHA 40.26 of the Fortieth World Health Assembly • Bibliography • IndexAbout The Book:- The Book Presents A Comparative Study Of The Human Rights Abuses And Legal Problems Faced By Members Of The Third Sex In India, Complications Regarding Marriage Adoption And Sexual Status, With Relevant And Important Documents, Petitions Field Challenging The Criminalization Of Homosexuality, And Extracts From International Human Rights Treatise For Human Rights Activists, Social Scientist, Lawyers, Concerned Citizens, About The Author:- Rajesh Talwar, Is A Lawyer By Profession, A Prolific Writer, And Has Also Taught Law At Delhi University And Jamia Millia Islamia For A Period Of Six Years. In 1996 He Went To The U.K. On A British Chevening Scholarship, From Where He Did His Ll.M. In Human Rights Law From The University Of Of Nottingham. He Has Written Extensively On Legal And Non-Legal Subjects For Various Newspapers And Magazines, And Has Authored Several Books, Both Non-Fiction As Well As Fiction. Making Your Own Will (Vision Books, 1992) Was Followed By The Judiciary On Trial (Cosmos, 1995), How To Choose Your Lawyer (Vision Books, 1998), The Divorce Handbook (Vision Books, 1999), The Third Sex And Human Rights (Gyan Publishing House, 1999), Inside Gayland (Kalpaz Publications, 2001) And The Laws Of E-Business In India (Vision Books, 2001). Forthcoming Books Include A Collection Of Children'S Stories., Content:- Acknowledgements • Preface • Introduction • Judgments Of Various Courts • Legal/Other Problems Faced By Transsexuals • Legal/Other Problems Faced By Hijras • Hijars And International Human Rights Law • Conclusion • Appendix A?Signification Indian Documents • Write Petition Field In The Delhi High Court On Behalf Of The Aids Bhedbhav Virodhi Andolan (A.B.V.A) Challenging The Constitutional Validity Of Section 377, Indian Penal Code And Segregation And /Or Compulsory Testing Of Prisoners • Counter-Affidavit By The National Aids Control Organization, Respondent No. 6 • Extract From Report By Caleri (Campaign For Lesbian Rights) In 1999 • Extracts From Act No. Xxvii Of 1871, For The Registration Of Criminal Tribes And Eunuchs • A Testing Time For Prisoners • A Criminal Conspiracy To Test The Aids Vaccine • Appendix B?Relevant International Human Rights Instruments And Documents /Declaration In The Context Of Aids • Universal Declaration Of Human Rights • International Covenant On Economic, Social And Cultural Rights • International Convenant On Civil And Political Rights • International Convention On The Elimination Of All Forms Of Racial Discrimination • International Convention Against Torture And Other Cruel, Inhuman, Or Degrading Treatment Or Punishment • United Nations Commission On Human Rights Resolution On Hiv/Aids (Resolution 1995/44 Adopted On 3Rd March, 1995) • The Protection Of Human Right In The Context Of Human Immunodeficiency Virus (Hiv) And Acquired Immunodeficiency Syndrome (Aids) • Resolution 42/8 Of The Forty-Second General Assembly Of The United Nations • Resolution Wha 42.33 Of The Forty-Second World Health Assembly • Resolution Wha 40.26 Of The Fortieth World Health Assembly • Bibliography • Index
Read less
Other books by Rajesh Talwar
Recommended Books for you - See all
Price
:
Rs. 600
Rs.446
You save: Rs.154
Vendor :
Gyan Books Pvt.Ltd, Delhi
Free Shipping on all orders of Rs.500 and above. Add Rs.30 otherwise. | Delivered in 5 working days
(Cash on delivery available)
Be assured. 7 days Return & Refund Policy.
Click here
2 offers starting from Rs. 446
Rs.446 + Rs.30 delivery charges

In stock | Delivered in 5 working days

Gyan Books Pvt.Ltd, Delhi

Add to cart

Rs.593 FREE SHIPPING

In stock | Delivered in 5 working days

Anshika Books, Delhi

Add to cart