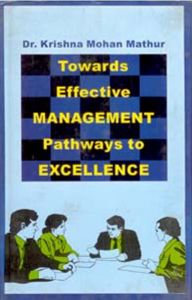 Towards Effective Management: Pathways To Excellence
By: K.M. Mathur
Product Details:
Share this by email:
ISBN:
9788121206204
Publisher
:
Gyan Publishing House
Year of publishing:
1999
Format:
Hardback
No of Pages:
230
Language
: English
Description About The Author:- Dr. Krishna Mohan Mathur took his master's degree in Economic from Agra Universityand became a lecturer. Later he joined the Central Iecturer. Later he hoined the Centeral...
Read more
Description About The Author:- Dr. Krishna Mohan Mathur took his master's degree in Economic from Agra Universityand became a lecturer. Later he joined the Central Iecturer. Later he hoined the Centeral Reserve Police Force and served in several states of India. He was recipient of Ford Foundation Fellowaship and visited U.S.A., and Japan to study various training techinques used in policde training abroad. His books Administration of police in a Democratic Society, Vikash Sheel Samaj Main Saansamajik police Ki Bhumika (Hindi), are seminal studies of the subjects. He has written about eighty articlers on police and internal sexcurity subjects. Jhe is on the guest faculty of S.V.P. National Police Academy, Hyderabad, and Internal Security Academy, Mount Abu. At present he is woking as Deputy Inspector General of Police in Punjab takling the complex problem and challenges of terrorism.Contents:- Preface • Towards Effective Management • Effective Leadership • Management Development • Human Resource Planning • Management in Government • Effective Time Management • Towards Total Quality Management • Pathways to Organisational Excellence • Relevance of Vedantic Philosophy for Contemporary Management • AppendicesAbout The Book:- It Covers Important Areas Of Management Which Should Be Of Immediate Interest To A Wide Cross-Section Of Professionals In Diverse Fields Of Human Activity. Effective Leadership, Effective Time Management, Total Quality Management And Relevance Of Vedantic Wisdom For Contemporary Management Are Some Of The Subjects Covered By The Author., About The Author:- Dr. Krishna Mohan Mathur Took His Master's Degree In Economic From Agra Universityand Became A Lecturer. Later He Joined The Central Iecturer. Later He Hoined The Centeral Reserve Police Force And Served In Several States Of India. He Was Recipient Of Ford Foundation Fellowaship And Visited U.S.A., And Japan To Study Various Training Techinques Used In Policde Training Abroad. His Books Administration Of Police In A Democratic Society, Vikash Sheel Samaj Main Saansamajik Police Ki Bhumika (Hindi), Are Seminal Studies Of The Subjects. He Has Written About Eighty Articlers On Police And Internal Sexcurity Subjects. Jhe Is On The Guest Faculty Of S.V.P. National Police Academy, Hyderabad, And Internal Security Academy, Mount Abu. At Present He Is Woking As Deputy Inspector General Of Police In Punjab Takling The Complex Problem And Challenges Of Terrorism., Content:- Preface • Towards Effective Management • Effective Leadership • Management Development • Human Resource Planning • Management In Government • Effective Time Management • Towards Total Quality Management • Pathways To Organisational Excellence • Relevance Of Vedantic Philosophy For Contemporary Management • Appendices
Read less
Other books by K.M. Mathur
Recommended Books for you - See all
Price
:
Rs. 345
Rs.256
You save: Rs.89
Vendor :
Gyan Books Pvt.Ltd, Delhi
Free Shipping on all orders of Rs.500 and above. Add Rs.30 otherwise. | Delivered in 5 working days
(Cash on delivery available)
Be assured. 7 days Return & Refund Policy.
Click here
2 offers starting from Rs. 256
Rs.256 + Rs.30 delivery charges

In stock | Delivered in 5 working days

Gyan Books Pvt.Ltd, Delhi

Add to cart

Rs.341 + Rs.30 delivery charges

In stock | Delivered in 5 working days

Anshika Books, Delhi

Add to cart