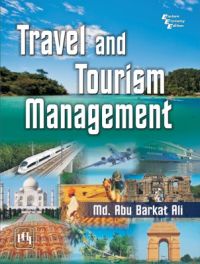 Travel and Tourism Management (English)
Product Details:
Share this by email:
ISBN:
9788120350588
Publisher
:
PHI
Year of publishing:
2014
No of Pages:
280
Language
: English
Hospitality industry is growing at a rapid pace. The improving cross-country relations have resulted into boom in the Travel and Tourism Industry and its services. This book gives a comprehensive account...
Read more
Hospitality industry is growing at a rapid pace. The improving cross-country relations have resulted into boom in the Travel and Tourism Industry and its services. This book gives a comprehensive account on tourism industry of India, at large and the world, in general. From hotel to transportation (airways, railways and roadways), the book delves on services that helps in managing a tour efficiently. It also talks about tourisms role in revenue generation and trade forming an integral part of the tourism industry. The book discusses the topics like sustainable tourism and contemporary trends being followed in tourism, hotel and aviation industry today. Designed as a text for the students of hospitality management, the book is equally beneficial for the students pursuing a diploma level course in travel and tourism management. Besides, the book is equally useful for the professionals working in the hospitality industry. What Reviewer says
Read less
About the author:
Md. Abu Barkat Ali
Recommended Books for you - See all
Price
:
Rs. 325
Rs.322
You save: Rs.3
Vendor :
PHI Learning Pvt Ltd, delhi
Free Shipping on all orders of Rs.500 and above. Add Rs.30 otherwise. | Delivered in 5 working days
(Cash on delivery available)
Be assured. 7 days Return & Refund Policy.
Click here