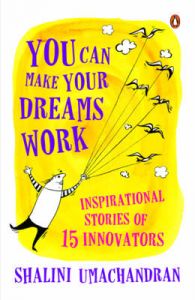 You Can Make Your Dreams Work : Inspirational Stories of 15 Innovators (English) (Paperback)
Product Details:
Share this by email:
ISBN:
9780143418535
Publisher
:
Penguin Books Ltd
Year of publishing:
2015
Format:
Paperback
No of Pages:
240
Language
: English
What if you decided to do what you love instead of working at someone else's desk every day? That's exactly what the men and women in this book did. They took the conventional route but slowly gathered...
Read more
What if you decided to do what you love instead of working at someone else's desk every day? That's exactly what the men and women in this book did. They took the conventional route but slowly gathered the skills, resources and strength to make their own path. Featured here, among other incredible people, are Mahesh and Suresh Ramakrishnan, IT and banking professionals turned bespoke suit makers, former corporate lawyer Piya Bose, who now owns a travel company and Raghu Dixit, microbiologist turned rock star. Success, to them, is in earning a living from their passion, having a strong sense of purpose and learning from the challenges they face every day. Their lives and sterling tips for success are not merely inspiring but also empower you to muster the courage and make a go of your new life. An inspirational book but also a practical one. Key Features: Contains diverse profiles of 20 men and women, who tried the tested path but finally quit and made the switch from the corporate world. Those profiled include: Mahesh and Suresh Ramakrishnan - IT consultants to makers of bespoke suits, supplying to Savile Row Abhijeet Barse - environmental science researcher to head of Slum Soccer, an NGO Kanishka Sharma - from Reliance Cement and Petrochemicals to Shaolin instructor Nishant Singh - from marketing and brand manager in Vodafone to Drifters' Inn in Manali Piya Bose - from corporate lawyer to travel company, Girls on the Go Rohit Singhal - doctor turned tech millionaire making apps for the iPhone Snehal Bal - from HSBC to aqua fitness coach Contains sterling tips for success from the concerned persons, at the end of each profile
Read less
About the author:
Shalini Umachandran
Recommended Books for you - See all
Price
:
Rs. 499
Rs.431
You save: Rs.68
Vendor :
S.V. Enterprise., Mumbai
Free Shipping on all orders of Rs.500 and above. Add Rs.30 otherwise. | Delivered in 5 working days
(Cash on delivery available)
Be assured. 7 days Return & Refund Policy.
Click here